Photo Gallery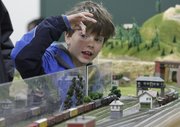 Lawrence Model Railroad Show
The 12th annual Lawrence Model Railroad Show and Swap meet was held Saturday, Feb. 16, at the Douglas County Fairgrounds.
Two-year-old Eli Kaul's eyes widened and his smile grew as he watched a model train cruise on the tracks of a railroad layout created by the Topeka Model Railroad Club.
Eli's grandparents, Nancy and Gus Bogina, traveled from Topeka to bring him to the 12th annual Lawrence Model Railroad Show and Swap Meet on Saturday at the Douglas County Fairgrounds.
Jan Brocker, Lawrence Model Railroad Show coordinator, said the show typically brings in a large group of children, but also model railroad builders looking for ideas, advice and railroad accessories.
"Kids like to see trains run," Brocker said. "Adults do too, but they want to buy trains or accessories."
Model railroad enthusiasts create realistic railroad landscapes, only on a miniature scale. Some modelers build their entire displays from scratch while others like to buy the structures, trees and other parts that accessorize their track layouts.
More than 20 vendors from Kansas and Missouri filled at least 50 tables with train-related merchandise for attendees to browse from. Items for sale included trains and display accessories, books, DVDs and even hardware that had been used on a real railway.
Bryan Ohrman, Independence, Mo., is new to train modeling. He began building a train layout for his grandson about six months ago with no knowledge of how to start. He did research on the Internet, read train-model magazines and began to build. Ohrman attended the show to search for parts for his model as well as to learn what he could from displays and experts at the show.
With half of the building boasting railroad model displays, Ohrman had plenty of designs to survey.
"I've gotten quite a few ideas for layouts," he said.
The Topeka Model Railroad Club built one of the biggest displays. Six-foot sections of railroad layouts fit together to make one large 12-by 24-foot display. Each section was made by individual members of the club.
Frank Dugan said it took him more than 100 hours to build his section of the display.
When Dugan first began building train layouts, he had taken up hobby for the modeling, but eventually the trains grew on him. Now he's a member of the Topeka Model Railroad Club and builds the models and trains as a leisure activity.
"It's my way to escape on weekends," Dugan said. " … You can be either the engineer running the train or mayor of the town; whatever you want to be."
The event also served as a benefit for the Lawrence Interdenominational Nutrition Kitchen. Guests got a discount on admission for donating canned goods, and the proceeds from the event, both cans and money, will go to LINK.
Copyright 2018 The Lawrence Journal-World. All rights reserved. This material may not be published, broadcast, rewritten or redistributed. We strive to uphold our values for every story published.