Jordan Dreiling knows he's the poster child for a new era of Kansas baseball.
As the Jayhawks' starting third baseman — a position where teams have stuck their burly power hitters for decades — the Lawrence native and Free State High grad checks in at 5-foot-11, 176 pounds.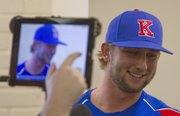 Heading into his senior season as one of KU's three team captains, Dreiling has no career home runs.
"That's just how it fell, I guess," Dreiling said. "They're going to try to play to my skill set."
After the NCAA changed its regulations regarding aluminum bats two years ago —new bats have less trampoline effect and, thus, balls jump off the bat with less velocity — KU coach Ritch Price has restructured his offense.
The key, Price believes, isn't to knock the ball out of the park any more.
"I think it's about guys that can hit .300 now, about guys that can go first to third, that can handle the bat, that can steal second base," Price said. "Situational hitting is crucial now. (Getting in) runners at third base, less than two outs.
"I actually kind of like the style of change that's taken place. You have to almost go back and play with a wood-bat mentality."
That means an even greater shift to small ball for the Jayhawks in 2013, who will have a lineup filled with speed and singles-hitters.
After tying for seventh in home runs in the nine-team Big 12 a year ago, Price doesn't seem too concerned when admitting his team only has one true power threat in senior infielder Alex DeLeon.
There's even a possibility KU could hit fewer than 20 home runs this season — a mark the team has topped every year since 1977.
Price believes the team can make up for that lack of power in other areas.
"Our goal is more about hitting .300, close to it as a team," Price said. "Because now, if you're .280, you're a good offensive club. It used to be if you hit .280, you were awful."
The Jayhawks have a long ways to go to get there.
Though KU struggled in homers in 2012, it actually was worse in average. The Jayhawks hit just .245, ranking 279th out of 291 teams nationally.
Dreiling was the only KU regular who hit above the .300 mark, posting a .301 average and .453 on-base percentage.
"I think one to nine offensively, we're a lot more competitive than last year," Dreiling said. "I think you'll see a lot of guys working counts, not giving away at-bats. I think that's going to help us out down the road."
The Jayhawks especially struggled during conference play in 2012, finishing last in each of the triple-slash categories: average (.242), on-base percentage (.303) and slugging percentage (.276).
"When you start five freshmen like we did a year ago, you're going to struggle in our conference. That was certainly the case," Price said. "Those young men have all made progress."
KU won't have to wait long to see where its offense stands.
The Jayhawks open their season at 2 this afternoon in Mesa, Ariz. They'll match up against Nevada and starter Bradey Shipley, who should be selected in the early rounds of the 2013 MLB Draft. The junior right-hander had a 2.20 earned-run average a season ago while regularly throwing his fastball between 92 and 97 miles per hour.
Price received a call earlier in the week telling him that Oakland A's general manager Billy Beane will be attending the game, and Price estimates that 50-75 scouts also could be in attendance to watch Shipley.
"We're going to find out early what it takes to play at our level," Price said. "It's something our guys are looking forward to."
Copyright 2018 The Lawrence Journal-World. All rights reserved. This material may not be published, broadcast, rewritten or redistributed. We strive to uphold our values for every story published.