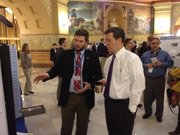 Topeka — Dozens of college students from Kansas University, Kansas State and Wichita State showcased their work Thursday in the Statehouse as part of the 10th annual Capitol Graduate Research Summit.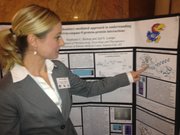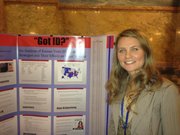 Hunter Harlow, who is getting his master's degree from the KU department of geology, was displaying an investigation of rock formations in the Ogallala aquifer.
He said the rock formations vary tremendously, which probably is the reason why groundwater levels and depletion rates vary significantly from one field to the next.
Getting accurate analyses of the underground rock will help farmers and policymakers "better predict future water management," he said.
Stephanie Bishop, a doctoral student at KU Medical Center, is conducting research on "protein inhibitors."
These new cancer drugs will target proteins that enable the growth of cancer cells.
And Chelsie Bright, a doctoral student in the political science department at KU, tackled the controversial voter ID law, which requires voters to show photo ID to cast a ballot.
Bright looked into how county election officials informed voters about the law and whether that affected voter turnout.
She divided the counties into three categories: those that told voters about the requirements of the law, those that emphasized "all votes will count" and those that provided no information.
Bright said she is still conducting the research and hasn't reached any conclusions yet.
Copyright 2018 The Lawrence Journal-World. All rights reserved. This material may not be published, broadcast, rewritten or redistributed. We strive to uphold our values for every story published.