A group of fans at the Sunflower League Bowling Championships picked the wrong time to make a ruckus Thursday afternoon at Royal Crest Lanes.
Some of Lawrence High's boys shared their lanes with a throng from Olathe Northwest. As the afternoon progressed, strikes became contagious between the two teams, who used one another to build momentum as the fans around them ate it up.
Photo Gallery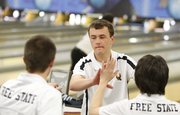 2013 Sunflower League bowling
That kind of environment suited Lions senior Austin Bennett better than anyone. Bennett embraced every moment, bowled the series of his life (781) and his individual league title helped carry LHS to the program's first Sunflower League championship.
It was about midway through the three-game series that the ONW girls team began cheering wildly for their classmates. So after one of Bennett's numerous strikes, he shushed the Ravens.
"I just felt they were trying to get in my head, just screaming as loud as they could," said Bennett, who remained playfully competitive with the ONW bowlers throughout, often exchanging high-fives. "So I just threw that strike and told them that it's not working."
The Lions' Tre Sexton, who finished with a 10th-place medal for his 644 series, said Bennett's career-best afternoon — and personal-record 276 in the third game — helped the other LHS bowlers forget about any problems that came up earlier.
"We started feeding off it a lot," Sexton said.
Bennett left impressed with his teammates. Freshman Ivan Davidson bowled a 244 in his first game and finished with a 565. Connor Daniels had a 561 series, Triston Decker finished with a 546 and Dustin Hauptman rolled a 481.
"When some people were slacking," Bennett said, "some people were stepping up, and we really needed that."
The race for the league title remained close enough that fourth-place Shawnee Mission South (2,610), third-place ONW (2,614), runner-up Olathe North (2,622) and Lawrence (2,648) all had to wait until the formal announcement to find out who would leave on top.
Said Sexton, after he and his teammates celebrated the news: "We didn't really expect to win it all."
Free State's boys (2,454) took sixth place, thanks in part to a ninth-place 659 series from freshman Matthew Eagle. Fellow Firebird Chase Taylor (601) marveled at Eagle's performance.
"I've been really impressed with him the whole year, but he's always been consistent," Taylor said. "He's always one of our top bowlers, always really good."
Where does that come from?
"I just try not to show too much emotion," Eagle said, "because that kind of throws me off. I just keep a straight face and focus on the next shot."
FSHS bowlers Tyler Roste (576), Briggs Fish (560) and Eric Glogau (523) broke 500 and Jordan Jump finished at 472.
LHS girls fourth; FSHS 10th
The girls bowlers representing Lawrence High didn't get much of a Valentine's Day gift from their home lanes Thursday morning, in the midst of competing for the Sunflower League championship.
Frequently — especially in their third games — the Lions walked away from their rolls trying to mask looks of disgust. LHS remained in striking range of eventual league champion Olathe North after scores from the first two games were tallied, but struggled to build any momentum late and had to settle for fourth place, behind O-North, Shawnee Mission North and Olathe Northwest.
The Lions knew exactly where they stood after seeing the top three team scores scroll across the monitors early in their second and third games. Each time, Lawrence trailed O-North by 20 to 30 pins. LHS leader Kierstan Warren said that was information her team could have done without.
"My personal opinion is I hate it," she said of seeing the updated standings mid-game. "Bowling is a big mental game. When they show you that, some of the teams get really encouraged … Some of our team members will be like, 'Don't tell me. I'm not looking. I'm not looking.'"
The Lions' Ami Harvey agreed: "It helps me not to look at my score. I stress myself out."
After her team-best 553 series earned her an eighth-place medal, Warren said LHS wanted the first game to serve as a warm-up, but they never found any consistency. The third game proved to be a struggle, with four of the six bowlers posting their lowest scores of the morning. Warren and Harvey said the Lions tried to adjust to the oily condition of the lanes, but often couldn't get the breaks or action they sought on their rolls.
"There were some girls who were all over the place today," Warren said.
Still, Zoe Reed finished with a 500 series, Rebecca McNemee had a 499, Harvey posted a 486 and Miranda Krom rolled a 457.
Coach Paula Bastemeyer, Harvey shared, told the girls to learn from the experience and not feel disappointed.
"It was one of those iffy days, but next week's when it counts," Warren said, looking ahead to a regional at Manhattan on Feb. 20.
Free State's girls team placed 10th out of 12 teams at the league championship.
"I know we can do better," Gentry Jordan said after none of the Firebirds broke 500.
Emily Reno came closest to doing so. Her 490 series led FSHS, though the team's top scorer tends to fluctuate from event to event.
"It depends on how we're rolling the ball, if things are sticking," Reno said, "there's so many things that play into it."
Adjusting her hold on the ball before going into motion gave her a slight edge. The right-handed bowler barely placed her left hand on the ball and let her strong hand take on more weight.
"It changes everything," Reno said. "I was just trying to mimic what I did yesterday in practice and it worked out."
Jordan finished with a 447 series, Bri Martin had a 444 and Maddy Dethloff scored a 372 for FSHS.
Copyright 2018 The Lawrence Journal-World. All rights reserved. This material may not be published, broadcast, rewritten or redistributed. We strive to uphold our values for every story published.