A 23-year-old Lawrence man has been arrested on suspicion of aggravated burglary after residents confronted an intruder in their home early Monday morning.
Jacob Emmanuel Keeling was arrested Tuesday afternoon at his home in the 1600 block of Haskell Avenue, after police identified him as a suspect in a burglary reported to police about 5:30 a.m. Monday at a home in the 1700 block of Louisiana Street, said Sgt. Trent McKinley, a Lawrence Police Department spokesman.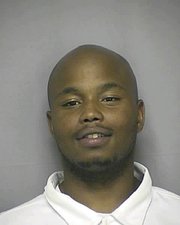 Residents there said they were awakened by a loud noise and found a man in one of their downstairs bedrooms. The residents told police they confronted the burglar and pursued him a short distance as he fled. Officers determined the burglar had entered the home by breaking a window on the rear porch and had stolen several items.
Physical evidence at the scene led police to identify Keeling as a suspect, McKinley said.
Keeling was paroled from a Kansas prison in July 2011, after serving a 15-month sentence for a burglary conviction in Shawnee County. He remained in Douglas County Jail Wednesday, but has not yet been charged. Bond has not yet been set.
• To view recent LJWorld crime stories, click here.
• Click here to view the weekly arrest log.
Copyright 2018 The Lawrence Journal-World. All rights reserved. This material may not be published, broadcast, rewritten or redistributed. We strive to uphold our values for every story published.