Will Olson knows a thing or two about chaotic situations.
Olson served a year's tour of duty in Iraq in 2005 as a National Guard soldier with his Pittsburg-based combat engineer battalion.
"It taught me critical decision making," Olson said. "When your decisions can place a burden on a group as a whole, that changes how you go about making decisions."
These days, the decisions are a bit less critical but at times still involve dealing with a lively group of people. Olson is a manager at the Lawrence drinking establishment R Bar & Patio, where he can catch an earful anytime he wants about city government or community issues.
"Everybody likes to talk when they are hanging out," Olson said. "People come in with vocal opinions about the city."
Olson is ready to start voicing some opinions about Lawrence city government too, although they may not be quite as vocal as some of his patrons'. After all, he notes, City Hall has commission seats, not bar stools.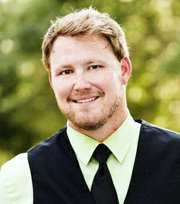 Will Olson
Address: 1135 Ohio St.
Age: 26
Profession: Manager at a Lawrence bar
Education: Kansas University student studying international business and economics
Family: Single
Olson is one of 11 candidates who have filed for a seat on the Lawrence City Commission.
"I definitely wouldn't call myself much of a politician," Olson said. "But if you have a good head on your shoulders and can make decisions for the good of the community, I don't think you need to be a politician. I probably won't give the best political speeches, but I'll have the best interests of the community."
Soldier turned student
In addition to his managerial duties at R Bar & Patio, Olson, 26, is a Kansas University student. He is studying international business and economics after starting his college career following his military service.
"I was with a girl at the time who was going to KU," Olson said. "I ended up falling in love with the city and started to go to school. It wasn't the normal route, but I suppose it just matters that you get there."
Olson, who lived in Dallas when he was young but graduated high school in Fort Scott, said he was impressed with the number of local businesses in Lawrence and the vibrancy of downtown.
Olson said he thinks he'll bring a good perspective to City Hall from people who take full advantage of that vibrancy.
"I'm constantly around a crowd that is out," Olson said "I guess you would call it a late-night crowd that I hang around with."
He said that portion of the city is very interested in seeing more late night public transportation options, whether it be through the bus system or more easily accessible taxi cabs.
"We are not trying to promote more drinking," Olson said. "But I know I have personally been in situations where you are out on New Year's Eve or some other busy night and you have to wait more than an hour to catch a cab.
"We end up walking in the cold usually, but a lot of people will make the poor decision of trying to drive."
Olson also said having a younger voice on the commission could be helpful. He is one of four candidates under 30 in this year's election.
"I think there are just a lot of younger people who want to be more involved in what is going on," Olson said. "It is very obvious that the city has been run by people who are a lot older than us."
Issues
Olson said hot issues he hears a lot about from his post behind the bar include road construction and better scheduling of it, the pending completion of the South Lawrence Trafficway, and certainly the proposed recreation center.
"I'm all for doing things that will benefit the community as long as it can be done responsibly," Olson said. "I still haven't decided exactly where I am on that issue. But it seems like there may be better places where some of that money could be spent."
On other issues, Olson said:
• He would like to look for ways to help improve after-school activities for youth, either through the Lawrence Boys and Girls Club or other organizations.
• He wants to ensure adequate funding for law enforcement, fire, schools and other core services.
A Feb. 26 primary will narrow the field of 11 city commission candidates down to six. The general election, where the top three vote winners will take a seat on the commission, will be April 2.
Copyright 2018 The Lawrence Journal-World. All rights reserved. This material may not be published, broadcast, rewritten or redistributed. We strive to uphold our values for every story published.