A high-speed chase on U.S. Highway 24 from Topeka to Jefferson County Tuesday morning ended with a suspect's vehicle on fire in a field about four miles northeast of Perry.
Kansas Highway Patrol troopers arrested the driver, Kyle E. Pearson, 26, near his disabled vehicle about 9:45 a.m. He was booked into Jefferson County Jail on suspicion of aggravated assault.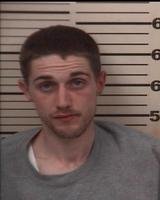 The incident began on Highway 24, east of Topeka, when a trooper tried to stop a black Chevy pickup truck for obscured tags and tail lights and possibly illegal window tinting about 9 a.m. Tuesday, according to the patrol. The driver refused to stop and led troopers on a 100 mph chase east on Highway 24 into Jefferson County, the patrol said, though troopers slowed while passing through towns such as Grantville and Perry.
The highway patrol notified railroad officials to stop trains in the area and alerted Perry-Lecompton High School, said Donald Hughes, a highway patrol spokesman. Jefferson County sheriff's deputies joined the pursuit and used stop sticks to try to halt the truck.
The truck avoided those obstacles and was severely damaged as it went off the highway several times into fields, striking various objects on its path east, Jefferson County Sheriff Jeff Herrig said. The truck caught fire and stopped near Fifth Street and Phillips Road, where it burned completely.
Fire crews responded to the scene and put out the truck fire, and an ambulance was called as a precaution. Herrig said no one appeared to have been injured in the incident.
• To view recent LJWorld crime stories, click here.
• Click here to view the weekly arrest log.
Copyright 2018 The Lawrence Journal-World. All rights reserved. This material may not be published, broadcast, rewritten or redistributed. We strive to uphold our values for every story published.