Terry Tsue guesses that it's compassion that has led colleague Doug Girod to take part in more than a dozen medical missions to Guatemala, the Philippines, Uganda and elsewhere.
That may be true. But those trips are also evidence of what Girod is aiming for as the new leader of the Kansas University Medical Center: connections.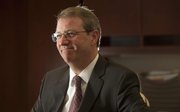 Girod, 54, says the way forward for KUMC is fewer separations and more bridges — among the different entities on the campus in Kansas City, Kan., and between the complex and other people and groups around the state, the nation and the world. That's the philosophy he said has helped elevate the department he's leaving, and colleagues say the work he did there could indicate what he's capable of on a grander scale.
"He's the right man for this job," said Tsue, a KUMC professor and vice chairman of the Medical Center's Department of Otolaryngology and Head and Neck Surgery. That's the department Girod led for more than 12 years, starting in an interim capacity, before he became KUMC executive vice chancellor Feb. 1.
Girod, an Oregon native who worked for a while in Silicon Valley in the 1970s before the advent of personal computers, earned his medical degree at the University of California at San Francisco. He settled on his specialty — surgery for cancers of the head and neck — because of the challenge and the nature of it, he said in an interview during his first full week in his new position.
"It's so impactful on people," Girod said. "It affects their appearance. It affects their ability to eat, swallow, talk."
After service in the Navy following his school and residencies, he came to KU in 1994. By 2000 he was leading the otolaryngology (ear, nose and throat) department.
Under his leadership, Tsue said, the department was transformed. It has four times the faculty members, a nationally recognized cancer treatment program that didn't exist before Girod's arrival, and a new international mission program for students, residents and faculty.
Formerly unranked, KU Hospital is now ranked 20th on the U.S. News and World Report "Best Hospitals" list for ear, nose and throat treatment. And it would rank higher, Tsue said, if the rest of the country were aware of how much patient care has improved.
"He's a pretty phenomenal leader," Tsue said.
Kirk Benson, a KUMC professor in the anesthesiology department, has worked with Girod everywhere from the operating room at KU Hospital to the leadership of KU Physicians Inc., the group that oversees School of Medicine faculty medical practices. Benson is the president, and Girod has served on its board and interacted with it in the administrative role he held for five years in the School of Medicine, senior associate dean for clinical affairs.
And whether it's with patients, nurses or fellow board members, Girod interacts the same way with everyone, Benson said.
"Anyone you talk to, you're going to get the same thing: that he's just a wonderful gentleman to be around," Benson said.
Girod says forming strong relationships will be important for reaching the goals he's set: to achieve a top-25 ranking for the School of Medicine in the U.S. News rankings, as well as a top-25 spot in National Institutes of Health funding.
"It's sort of trying to maintain what I think has just been an outstanding trajectory the Medical Center has had for the last decade," Girod said, "and maintaining that trajectory at a time of really significant fiscal constraint, but at the state level and the national level."
Students in the campus's three schools — medicine, nursing and health professions — need to learn together rather than apart, he said.
Key to that will be a proposed new health education building, toward which Gov. Sam Brownback has recommended $10 million in funding and $35 million in bonding authority. The best way to educate students is no longer through classroom lectures, Girod said, and the new facility would allow for simulation technology that will allow those different students to rub shoulders.
"You can't really keep training doctors in one building and nurses in another building and health professions in another building and then throw them all in the hospital and say, 'You guys go work as a team,' " Girod said. "It just doesn't make sense."
The promise of the new building, he said, will be important for one of his most pressing first tasks: to prepare for the hopeful renewal of the School of Medicine's accreditation by the Liaison Committee on Medical Education, which is scheduled to visit in October.
Another immediate task is the search for a dean for the School of Medicine, and Girod had already started work this past week, he said. The separation of that job — Barbara Atkinson, his predecessor, served in both positions — will help him focus on making connections on the campus and externally, he said.
"There's so much that needs to be done to accomplish what we need to accomplish," Girod said. "It's really too much for one person to effectively do all of it."
He hopes to have a dean in place within six months, he said — a speedy timeline by the standards of academia.
Girod said he wants to build further national and international connections, relationships with other medical institutions in the area and cooperation among the Medical Center, the KU Hospital and the physicians' practices. Such connections create more opportunities for education and research, he said.
And all three of the campus' schools will be working to fill current and future health care shortages in rural Kansas, he said.
And he believes things can continue to improve.
"I see opportunity everywhere," he said.
Tsue and Benson, his colleagues, agreed.
"He's one to challenge the status quo in a positive way," Benson said.
Copyright 2018 The Lawrence Journal-World. All rights reserved. This material may not be published, broadcast, rewritten or redistributed. We strive to uphold our values for every story published.