Tom Carlson figures he must have taken over for old Billy Hayes about a year or so after John Lennon died.
You'll have to excuse Carlson if he doesn't have an exact date for you. He's not really a numbers man. He's more a man of letters. Lots of them.
Carlson has been a Lawrence mail carrier for 37 years, with about the last 30 years spent delivering the mail in West Hills and the other smaller neighborhoods just west of Kansas University's campus.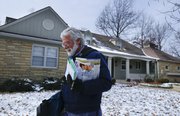 As for John Lennon, Carlson just remembers he was going to a Lennon concert on the day Billy Hayes was going to have a tumor removed. About a year or so after that, the route became available, which is saying something since Hayes had been the only mailman the neighborhood had known for at least three decades.
In case you are trying to do that math, let me save you some time. That's two mailmen for one neighborhood for a long time. Just how long is up for debate. One postal official told me he thought the neighborhood had only had two mailmen since World War II. Carlson thinks it's more likely it has been two since the Korean War.
But who knows? Carlson really isn't a numbers man. At first glance, he's not much of a spoken word man either — at least not with a man like me who writes down what people say for a living.
There are signs, though, that once he throws that mailbag over his shoulder he becomes one affable fellow. In fact, one such sign is carved in stone.
"There isn't anybody up here who doesn't think he is top notch," said Barb Bishop, who has lived in the neighborhood near the campus since 1979.
In fact, Bishop and her husband, Ken, thought so highly of Carlson they had one of the limestone pavers leading to the mail slot on their house carved in honor of Carlson: "1st Class Postman Tom."
"He had to put up with so much mud when we were rebuilding the walk, and he always did it with a smile," she said.
The timing is coincidental, but Carlson hung up his postbag for good — retired — last week, just a few days before the Postal Service announced its plans to discontinue Saturday mail delivery.
Such a change — especially when the Postal Service cites dire financial conditions — has lots of people wondering what is to come of one of the country's oldest traditions: the mailman (or mail carrier in this age.)
"I don't know," Carlson, or Tommy, as he's known in the neighborhood, says. "I know I wouldn't want to be working there if I had to do it another 37 years."
That's too bad because there are some pretty good benefits that come with a job that lets you walk through a neighborhood day after day. If you really want to know a place, try walking it almost daily for 29 years.
"I've seen a lot of kids grow up over the years," Carlson said. "There are quite a few people who are there now who were there when I first started. It is a neat neighborhood. There are a lot of people who are just there forever."
And Carlson had a simple policy for interacting with them.
"If they were out, we would talk," Carlson said.
The neighborhood — Carlson delivered in the area generally west of campus, east of Iowa, south of Oxford and north of Crescent — still lends itself for a bit of old-fashioned conversation. Most of the houses still have mail slots near their front doors, rather than the mailboxes by the road — or worse yet, the large, industrial-looking multihouse boxes that pop up in new subdivisions like dandelions.
With the interaction came neighborly kindness, even if Carlson wasn't officially a neighbor.
"There were some candies given at Christmas," said Carlson, who surely had no problem walking off those calories. (He went through a pair of shoes about every six months, he said.) "Don Fambrough's wife would make me a pecan pie every Christmas."
Good pie and good times. Not every mailman is so lucky. It is no secret that mail volume started to decline in the 1990s as the Internet took off. Magazines, birthday cards, and in some ways most importantly, Social Security checks are less likely to arrive in the mail these days.
"People aren't waiting for you by the door at the first of the month like they used to," Carlson said.
But in a way, time perhaps moved a touch slower in this Lawrence neighborhood that is home to lots of professors, lawyers, bankers and other old-world types. Maybe that is why Carlson never moved to another route, although he certainly had the seniority to do so.
Maybe the next carrier will feel the same way too, but who knows?
"I'm just hoping whoever gets it enjoys it as much as I did," Carlson said.
Residents of the neighborhood are hoping too. Bishop said a daily interaction with a friendly mail carrier is a nice slice of life in a neighborhood. But she's not necessarily counting on having another Tommy.
In fact, you remember that stone she had carved with his name? Bishop had the stone mason — a friend of Carlson's — take it to his retirement party last weekend. She wanted to make a delivery to the mailman for once.
Carlson was appreciative. "But I thought they should have just flipped it over and put the next person's name on it," he said.
That's a nice thought. It would be nice to think that the days of carving a mailman's name in stone aren't behind us.
— Each Sunday, Lawhorn's Lawrence focuses on the people, places or past of Lawrence and the surrounding area. If you have a story idea, send it to Chad at clawhorn@ljworld.com.
Copyright 2018 The Lawrence Journal-World. All rights reserved. This material may not be published, broadcast, rewritten or redistributed. We strive to uphold our values for every story published.