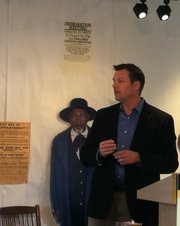 The state's highest election official treated a packed room Sunday at Constitution Hall in Lecompton to some Kansas election history.
Kansas Secretary of State Kris Kobach presented "Kansas' First Territorial Elections & the Lecompton Constitution" as part of the 2013 Bleeding Kansas lecture series.
Kobach focused on some of the flagrant instances of voter fraud as Kansas was forming its identity and constitution in the 1850s.
He referenced the March 30, 1855, territorial election, which Kobach called the "most infamous" example of voter fraud in history.
Invading Missourians stormed the state, taking the Lawrence polling station by force. And in a state with only 2,900 eligible voters, the final voting tally surpassed 6,300.
"Now that is voter fraud," Kobach said.
Such instances of voter fraud continued throughout the next few years in the state, hijacking Kansas' attempt to legitimize the electoral process, Kobach said.
The fight over the Lecompton Constitution — which was eventually rejected — also played a prominent role at the time. Created in 1857, the constitution protected slave-owner rights and intensified the abolitionist fight in Kansas.
"It was the national issue of the day," Kobach said. "It's a fascinating period of history."
The Bleeding Kansas lecture series continues the next two Sundays at Constitution Hall. The lectures begin at 2 p.m.:
• Feb. 17: "The Big Divide: A Complete Guide to Historic and Civil War Sites in the Missouri-Kansas Border Region," by Diane Eickhoff and Aaron Barnhart.
• Feb. 24: "Bleeding Kansas: The Real Start of the Civil War," by Robert C. Jones.
Copyright 2018 The Lawrence Journal-World. All rights reserved. This material may not be published, broadcast, rewritten or redistributed. We strive to uphold our values for every story published.