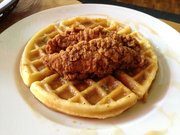 This take on chicken and waffles isn't the bone-in norm of soul food restaurants, but Burger Stand's version of the sweet/savory combo is, without question, easier to eat. Battered and fried chicken fingers top a crispy round waffle, the whole shebang drizzled with maple syrup. Sound good? Be sure to hit the Stand on "Chicken Tuesday" — the one day a week the Chicken and Waffles are on the menu.
Where to get it: The Burger Stand at the Casbah, 803 Massachusetts St. Tuesdays only.
What you'll pay: $8.99
Try it with: Roasted marshmallow sauce for the waffle and honey mustard for the chicken. That's only if the syrup's not sweet enough for you already.
Also on the menu: Kobe beef and other burgers with names like Smoke (with applewood smoked bacon, gouda cheese and chipotle-cocoa ketchup) and Fire (fresh avocado and habanero-cactus jam), Chicago-style hot dogs, fried pickles, poutine and duck fat fries (yep, fried in duck fat). Not a meat-eater? You can have a lentil, black bean, shiitake mushroom or garbanzo bean burger.
Copyright 2018 The Lawrence Journal-World. All rights reserved. This material may not be published, broadcast, rewritten or redistributed. We strive to uphold our values for every story published.