Free State coach Chuck Law says it's hard enough to guard a team when one opposing player has a hot-shooting night.
Photo Gallery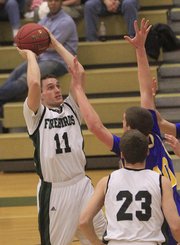 Free State boys basketball vs. Olathe South
So when four opposing players are all making shots, as was the case in No. 9 Olathe South's 68-56 victory over Free State ... well, the coach doesn't have many answers for that.
"To their credit, they came in and shot the heck out of the ball," Law said. "When they do that, they're virtually impossible to beat."
South made 11 of 18 three-pointers (61 percent), helped by a quick start against Free State's 1-3-1 zone.
Six-foot-1 senior Connor Soukup hit his first four three-pointers in the opening quarter, giving the Falcons a 19-9 lead and forcing the Firebirds out of their defensive specialty.
"In the first half, he got open shots that he shouldn't have," FSHS junior Cole Moreano said, "and that's on all of us."
Moreano almost single-handedly kept Free State in it.
The 6-foot-4 forward made his first seven field goals — including five three-pointers — as Free State pulled to within a point, 38-37, midway through the third quarter.
"I just kept shooting," Moreano said. "I knew it would go in, so I just let it fly."
South countered by making a defensive adjustment, switching frequently to a Box-and-1 to limit Moreano's touches.
The strategy worked, as Moreano was held scoreless in the fourth quarter as South pulled away.
Free State's perimeter defense improved in the second half, though it was hard to tell from the final statistics.
On two different occasions, Free State defenders Weston Hack and Blake Winslow chased South players to the perimeter only to see a fadeaway three-pointer sail in over an outstretched hand.
The Falcons made 21 of 37 shots overall (57 percent), which was made even more impressive considering 18 of their 37 field goal attempts were threes.
Four different South players made long-range shots, led by Soukup (5-for-6) and David Nelson (3-for-5).
The Firebirds were led by Moreano's 21 points on 8-for-13 shooting. The junior finished a perfect 5-for-5 from three-point range.
Free State (7-8), which had a five-game winning streak halted, will play at Shawnee Mission Northwest on Tuesday.
Copyright 2018 The Lawrence Journal-World. All rights reserved. This material may not be published, broadcast, rewritten or redistributed. We strive to uphold our values for every story published.