Photo Gallery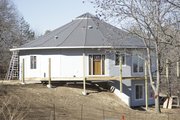 Lawrence couple builds round home
A Lawrence couple is in the process of building an unusual home. The light blue house on a hill just south of Lawrence is round. And eco-friendly. And it's being built from a kit.
There's a light-blue house on a hill just south of Lawrence that's round, eco-friendly, and being built from a kit.
Lawrence couple Dwight and Kimberly Purvis started building the circular home in November and plan to have it finished in March.
"It's funny to me how badly I think I do want to live in a round house now that I've gotten this far with it because it's pretty cool," Dwight said. "It's different enough that you get to use space differently."
The couple, who have been married for 27 years and own Purvis Woodworks, got the idea for the unusual house a few years ago. They toured Deltec Homes in North Carolina and were attracted to the company's speciality homes.
Deltec also sells traditional, square home kits that are eco-friendly. The kits come with wall panels, doors and windows.
As soon as their last child of two moved out, the Purvises purchased a Green Round Home Kit from Deltec for $154,000.
The house's skeleton rolled in on a semitrailer in November, and the Purvises, along with some of their friends, went right to work putting it together. Each of the two stories of the house holds 2,100 square feet of space, and each floor is enclosed by 20 4-by-6-foot rectangular panels. The insulation of the house is spray foam, a green alternative to fiberglass insulation.
Barry Frank, a photographer in Lawrence, took time-lapse photography of the house going up. He also helped set up the house. Frank said it took five days to set up the outer shell.
"I thought it was a pretty fascinating project," Frank said. "One of the things that struck me was at the end of the whole process, after the whole house went up, there was hardly any trash because there was exactly what they needed in the kit. It's a very efficient way to build a house."
The Purvises are working to ensure that the rest of the work on the house will be just as eco-friendly. They are purchasing green alternatives from local companies to finish the interior, such as bamboo flooring and Silestone quartz countertops. They are also using energy-efficient methods such as low-pressure shower heads and toilets, Energy Star windows, sunlight in closets and the stairway, a recycled-metal roof that reflects unwanted heat and an energy recovery ventilator, which circulates collected air from outside and releases the air from inside.
Dwight said that with this ventilation system, he will be able to fry bacon in the morning and not have to smell it for the rest of the day.
"I'll be breathing nice, clean, fresh, country air without losing very much energy at all times of the year," Dwight said.
Kimberly is excited about the view from the house. The north windows overlook what Kimberly calls an "evening golden valley" in the country. Farther north sits the Kansas University campus, which peeks through the many trees that blanket the city.
Copyright 2018 The Lawrence Journal-World. All rights reserved. This material may not be published, broadcast, rewritten or redistributed. We strive to uphold our values for every story published.