Kansas University's swimming and diving team swept all eight events Saturday to win its final home dual of the season, 190-106, against Iowa State in Robinson Natatorium.
Photo Gallery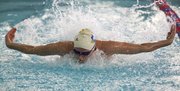 Kansas swimming vs. Iowa State
The Jayhawks (6-4 overall, 2-0 Big 12) lost just one event to the Cyclones, on Friday, in the two-day dual.
KU senior Brooke Brull earned two first-place finishes — season-best times in the 200 back and 200 IM — and anchored the first-place 400 relay team to its best mark of the year.
"Brooke had an awesome meet," Kansas assistant coach Jen Fox said. "She ended her senior season with a lot of momentum. We are very pleased with her performance today. She did a really good job of leading the way with the seniors."
The Jayhawks' top placers in the other five events were: senior Svetlana Golovchun (tie, 100 free), freshman Haley Molden (tie, 100 free), junior Alison Lusk (200 back), junior Malia Johnson (500 free), sophomore Deanna Marks (100 fly) and freshman Meredith Brownell (one-meter dive).
Brownell and senior Christy Cash qualified for NCAA Zone diving with their scores.
"Overall, it was a great performance and one of our better dual meets this season," Fox said. "We are really excited about where we are. We are going into Big 12's with a lot of momentum, and that was one of our goals for this weekend."
Kansas closes its season at the Big 12 Championships, which begin on Feb. 27 in Austin, Texas.
Copyright 2018 The Lawrence Journal-World. All rights reserved. This material may not be published, broadcast, rewritten or redistributed. We strive to uphold our values for every story published.