The shooting went cold when the Free State girls needed it most.
After leading No. 1 Olathe South by four heading into the fourth quarter, the Firebirds hit a dry spell late, falling 56-48 to the undefeated Falcons on Friday night at Free State.
Photo Gallery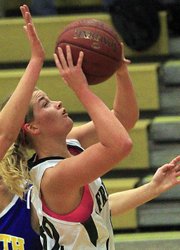 Free State girls basketball vs. Olathe South
"We played a good game, not a great game," Free State coach Bryan Duncan said, "and we needed to play a great game to win."
The Firebirds (12-4) put themselves in position for the upset late in the third, holding the ball for the final 50 seconds to get the last shot.
With the clock winding down, Abbey Casady buried a three to put Free State up, 42-38, with Duncan giving an animated fist-pump on the Firebirds bench.
The lead wouldn't last, though.
Following a Chelsea Casady three-pointer with 4:53 left, the Firebirds were outscored 12-2 the rest of the way. FSHS made just two of 10 field goals in the final eight minutes and one of seven three-pointers.
"I don't think we pulled it together as well as we wanted to in the last quarter," Chelsea Casady said.
Free State's final minutes played out similar to the end of the first half. FSHS led 25-19 with four minutes left in the second quarter before South ended the frame on a 10-0 spurt.
The Firebirds also struggled to find an answer defensively against South's 5-foot-10 point guard, Samantha Samskey. The sophomore frequently drew contact in the lane on drives, finishing with 29 points, which included 14-for-17 shooting from the free throw line.
"She was phenomenal tonight. We can do nothing but give her credit," Duncan said. "Not only did she set herself up to score and play a great game, but she set her teammates up. She was the difference."
Though the undersized Firebirds had success offensively pulling all five of South's players to the perimeter, they couldn't keep the Falcons off the glass, as South finished with 15 offensive rebounds and 12 second-chance points.
Chelsea Casady led FSHS with 17 points, while Kennedy Kirkpatrick added 14.
The loss snapped a seven-game win streak for the Firebirds.
"We do have a confidence now that we can hang with the best teams in the state," Chelsea Casady said. "We are one of the best teams in the state."
The Firebirds will play Tuesday at Shawnee Mission Northwest.
Copyright 2018 The Lawrence Journal-World. All rights reserved. This material may not be published, broadcast, rewritten or redistributed. We strive to uphold our values for every story published.