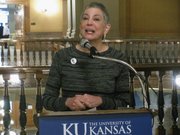 Topeka — Calling Senate President Susan Wagle a "true profile in courage," Dr. Roy Jensen, director of the Kansas University Cancer Center, on Thursday presented Wagle with the center's 2013 Leadership Award for her support of cancer research, therapies and prevention.
Wagle, R-Wichita, has survived two bouts with lymphoma and recently underwent chemotherapy treatment for non-Hodgkin lymphoma.
She was given a clean bill of health from her physician this fall. Her colleagues elected her president of the Senate in December.
"Her tenacity and her success are inspiring to us all," Jensen said.
Later, Wagle said that as the federal government grapples with budget problems, it may be up to states to contribute more funds for research.
Copyright 2018 The Lawrence Journal-World. All rights reserved. This material may not be published, broadcast, rewritten or redistributed. We strive to uphold our values for every story published.