Seabury girls 54, Topeka Heritage 21
Seabury avenged a early-season girls basketball loss, defeating Topeka Heritage, 54-21, on Tuesday at Seabury.
Photo Gallery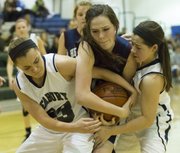 Seabury girls basketball vs. Topeka Heritage
The Seahawks lost to Heritage, 41-38, in the second game of the season.
"We've worked hard to improve," Seabury coach Keith Smith said. "We've played mostly 4A and 5A teams all season long. The girls have just worked hard and improved. When we come back and play a school our size, they're figuring out they can compete."
Courtney Hoag led the Seahawks with 11 points. Emma Stilgenbauer added 10 points, and Alexa Gaumer and Mariah Smith scored nine points apiece.
Seabury (6-8) will play Tuesday at St. James.
Seabury boys 50, Topeka Heritage 40
Seabury's boys basketball team snapped a season-long 13-game losing streak with a 50-40 home win over Topeka Heritage on Tuesday night.
Photo Gallery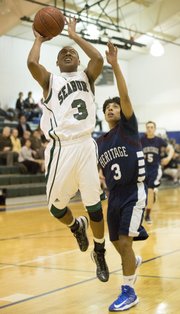 Seabury boys basketball vs. Topeka Heritage
Joe Simpson scored 13 points, Brandon McCaffrey scored nine points and both Marcus Allen and Eric Shin scored six.
The Seahawks (1-13) next play Feb. 12 at St. James Academy.
Copyright 2018 The Lawrence Journal-World. All rights reserved. This material may not be published, broadcast, rewritten or redistributed. We strive to uphold our values for every story published.