Ever since Mike Amyx was first elected to the Lawrence City Commission at the age of 29 — in 1983 — there has been a seemingly endless list of issues for the city to rule upon.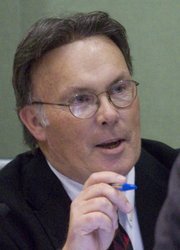 To name a few: the idea of a "cornfield mall" on South Iowa Street; a controversial redevelopment of a downtown block to make way for Douglas County Bank; the building of 15th Street west of Monterey Way; and the conversion of a rural street known as "Dragstrip Road" into what is now Wakarusa Drive.
While the issues have changed, the fundamental question that hangs over such topics at Lawrence City Hall hasn't, Amyx said.
"I think the big thing I have seen with all the issues we've dealt with over the years is that you have to figure out how it fits Lawrence, Kansas," Amyx said. "And you always have to ask yourself whether we can afford to pay for this at this time."
Amyx isn't tired of asking the questions yet. He is one of 11 candidates who has filed for a seat on the Lawrence City Commission.
Amyx, the lone incumbent in the field, is seeking his fifth term on the City Commission. He served a two-year term from 1983 to 1985, and was re-elected to a term that ended in late 1988 when he left the City Commission to serve a four-year term on the Douglas County Commission.
Mike Amyx
Address: 2312 Free State Lane
Profession: Barber shop owner
Education: Graduate of Lawrence High School; attended Kansas University.
Family: Wife, Marilyn, one adult son.
After taking a 12-year break, Amyx re-entered politics by winning election to the City Commission in 2005 and re-election in 2009.
Amyx said he didn't have to think long about whether he wanted to stay in the City Hall fray. Amyx has been the lone voice on the current commission who consistently has raised concerns about the price, size and location of a proposed $25 million city recreation center.
"I kind of knew I was going to run again even back in the fall, but you have to test yourself and make sure the fire is still there before you commit," Amyx said. "Believe me, I've discovered the fire is still there."
On display on Mass
Amyx, 59, wasn't born with barber clippers in his hand, but it is easy to understand why some may believe so. He's the owner of Amyx Barber Shop at the corner of Ninth and Massachusetts. He's been in the barbering business since 1975, and the Amyx family has been in the barber business in downtown since 1942.
Amyx said it is still a profession that suits him.
"I still like to talk," he said.
And it is still a profession that suits a city commissioner, Amyx said.
"I think it is very good for people to have access to their commissioners," Amyx said. "I just happen to be easy to find on Mass Street in a front window."
Amyx, who has lived in Lawrence his entire life, said people often find it easier to come to the barber shop and raise their concerns than they do to come to the more formal setting of City Hall. Plus, visitors to the barber shop will share information that may not always come up at City Hall but is helpful for a commissioner to understand.
"I usually start to hear when people are starting to feel the pinch of the economy," Amyx said. "I get to hear all sorts of things. The good things going on in their lives and the challenges."
Amyx said his sense is that there are still large numbers of Lawrence residents facing economic challenges, despite signs that the economy is picking up. He also said residents are talking about the need for government to be open and transparent.
Amyx said he thinks most Lawrence residents are the same in at least one regard.
"They really just want to be treated fairly in whatever discussion we're having at the time," Amyx said. "Whenever I leave office, that is the one thing I want people to say about me: I treated everyone fairly."
Issues
Amyx said crafting a fiscally sound budget is always one of his top priorities as a commissioner, and it will be one of the top items in his campaign. Among the issues he plans to raise on the campaign trail:
• Continued emphasis on maintaining the city's existing infrastructure, including streets, water lines, sewers and sidewalks.
• A broad discussion on future priorities for the city. While City Hall has been spending much time on the proposal for the $25 million recreation center, Amyx said the city needs to be discussing where other big-ticket items fit into the city's future.
"We have got to make sure we have a discussion about our priorities," Amyx said. "We need to talk more about Police Department funding. I'm a big believer in taking care of what we have before we jump into big-ticket items."
• Continued debate on the proposed recreation center. Although city commissioners may take action on the recreation center in mid-February, Amyx said he still expects the issue to be a major topic of discussion on the campaign trail.
"I think you can learn a lot about the candidates just from this one issue," he said.
A Feb. 26 primary will narrow the field of 11 city commission candidates down to six. The general election, where the top three vote winners will take a seat on the commission, will be April 2.
Copyright 2018 The Lawrence Journal-World. All rights reserved. This material may not be published, broadcast, rewritten or redistributed. We strive to uphold our values for every story published.