A 39-year-old Lawrence man was arrested Monday afternoon on suspicion of aggravated kidnapping and domestic battery after police responded to a domestic disturbance at a home in the 2400 block of Cedarwood Avenue.
Ronald Dwayne Walters was arrested at the home, where a witness reported seeing a female being chased outside and dragged into the residence by a male. The victim escaped and met with officers nearby, said Sgt. Trent McKinley, a Lawrence Police Department spokesman. She was injured and required immediate medical treatment, McKinley said, but her injuries appeared to be non-life-threatening.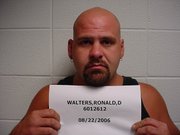 Officers surrounded the home and attempted to establish contact with the suspect inside, but he refused to speak with officers or come outside, McKinley said. Police surrounded the house until they obtained an arrest warrant from Douglas County Court and entered the house about 3 p.m., arresting Walters.
Walters has been arrested, but not yet charged, and remains in Douglas County Jail. Bond has not been set.
• To view recent LJWorld crime stories, click here.
• Click here to view the weekly arrest log.
Copyright 2018 The Lawrence Journal-World. All rights reserved. This material may not be published, broadcast, rewritten or redistributed. We strive to uphold our values for every story published.