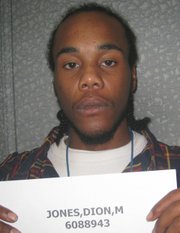 A 21-year-old Kansas City, Kan., man was arrested early Sunday morning for gun possession after police were dispatched to Magic Lounge, 804 W. 24th Street.
Lawrence police arrested Dion Marcell Jones shortly after 3 a.m. for criminal possession of a firearm. According to police records, police originally responded to the club shortly before 1 a.m. for a "bar check," and nine units were eventually dispatched to the scene.
Jones is currently on probation stemming from a 2012 drug selling conviction out of Wyandotte County. He is currently being held without bond.
* To view recent LJWorld crime stories, click here.
Click here to view the weekly arrest log.
Copyright 2018 The Lawrence Journal-World. All rights reserved. This material may not be published, broadcast, rewritten or redistributed. We strive to uphold our values for every story published.