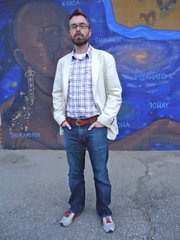 Age: 30
Relationship status: Very single
Hometown: Berea, Ohio
Time in Lawrence: 13 years
Occupation: Editor
Dream job: Being an editor
What were you doing when scouted? Leaving work
Describe your style: Hipster/GQ sweetspot
Fashion trends you love: Casual sport coats, outfits that use classic pieces but aren't super formal
Fashion trends you hate: Over-the-top costume-y outfits
Fashion influences: People I see on the lower east side every time I go to NYC
What would you like to see more of in Lawrence? Late-20s, early-30s young professionals and jobs to support them
Less of? Bad drivers, especially people who turn left without using the turning lane.
Tattoos or piercings? No! I'm very afraid of needles.
Who do people say you look like? Some guy around town. His name might be Tucker.
Tell us a secret … I read the whole Harry Potter series this summer as a 30-year-old to impress a girl.
Copyright 2018 The Lawrence Journal-World. All rights reserved. This material may not be published, broadcast, rewritten or redistributed. We strive to uphold our values for every story published.