Saunny Scott has done a lot over the years to ensure that people in Lawrence had a place to rest their head at night. Now she not might have a place of her own.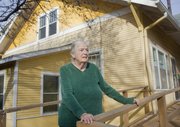 Saunny, a longtime advocate for the homeless in Lawrence, is at risk of losing her own home in East Lawrence after her daughter, who has cerebral palsy, had her disability benefits cut.
You would think Saunny, 76, has had her hands full enough at home to not worry about what's going on in the community, but that's not in her character. She has served on task forces dedicated to improving accessibility for people with disabilities. She sat on a committee to encourage the city to start providing bus service at night, which it did. And, not least of all, she has helped get numerous homeless people off the streets of Lawrence, even going as far as to let some stay at her place.
"Sometimes at meetings I think, Why am I still sitting here?" she said over tea on a recent day, a "Listen to Women for a Change!" pin attached to her blue cardigan. "But the issues still exist. And I'm not very good at letting go."
A few decades ago, when another longtime local activist, Hilda Enoch, started the Coalition for Homeless Concerns, one of the first persons she called was Saunny. "She's a very dynamic person, she's a leader and she understands the plight of the homeless person," said Enoch, 79. "It seemed like a natural thing to ask her."
Their efforts led to the creation of a drop-in day center and later an overnight shelter. The two eventually combined to become the Lawrence Community Shelter.
Organization builder
In the 1960s, Saunny served in the Peace Corps in the Philippines, where she founded a women's auxiliary at a local hospital. "That was my first experience with starting an organization and I had to go home and leave it behind. These," she said, referring to the groups she's involved with in Lawrence, "I don't have to leave."
To Loring Henderson, executive director the Lawrence Community Shelter, that's just another example of Saunny's effectiveness as a leader. "She sees a need and she helps to put together groups of people who can work on that need and builds organization that seem to have an ability to survive," he said. "I know she's not fickle and she's not fly by night. She's very much dedicated and stays with things."
Saunny came to Lawrence to study toward her master's degree at Kansas University. She had an interest in childhood development, with a focus on teaching language to deaf children.
She had an interest in raising them too. She has adopted four children, each with different severities of physical or developmental disabilities. Her first child, a son, was deaf and blind (he has since died). Her oldest daughter, who is now in Texas, is severely hearing impaired. Her third child, a son who initially had a hearing problem that has since improved, resides and works in Lawrence. Her youngest daughter has cerebral palsy and lives at home with Saunny.
Years ago, Saunny was rear-ended on the highway by a driver who had fallen asleep. She hurt her back and was diagnosed with arthritis. Continuing school became too difficult for Saunny, whose husband had left her years earlier, so she worked part time and took care of her kids.
A tough situation
A few years back, Saunny helped her youngest daughter, Bea, start her own business, washing and folding towels for salons and fitness centers. Because of a lack of customers, though, Saunny says the operation has become more of a hobby at this point for her daughter.
But when her daughter's disability payments were cut by about $500 a month recently because she owed money related to the business venture, Saunny could no longer afford her mortgage payments. She's waiting to find out if she can refinance.
Her house isn't just any house. Besides being the one she's lived in since 1986, its main level is fully accessible for people with disabilities, complete with a wheelchair ramp, grab bars and wide doorways.
Saunny also has to now rely on a mix of food stamps, senior meals and a local food pantry to keep herself and her daughter fed. Even so, she plans to continue her advocacy, including pushing the city to offer bus service on Sundays and holidays, expanding affordable housing in Lawrence and abolishing the death penalty in Kansas and elsewhere.
During a recent interview, Saunny told the story of how, when someone called to tell her that her eldest son had died, her younger son picked up the phone at the same time and heard everything. He immediately came downstairs and hugged her. "It would have been so much harder if I were alone," she said. "Things like that happen and you think: angels, serendipity.
"I'm looking for another angel experience, I guess," she said, referring to the situation with her home. "But of course they don't happen when you're looking for them."
Copyright 2018 The Lawrence Journal-World. All rights reserved. This material may not be published, broadcast, rewritten or redistributed. We strive to uphold our values for every story published.