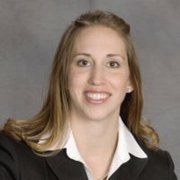 Topeka — Two weeks before the start of the 2014 legislative session, Kansas University on Monday announced hiring a new director of state relations who will play a major role in changing KU's strategy in dealing with state policymakers and try to get Republican legislative leaders to restore budget cuts from last session.
Lindsey Douglas, who has been legislative liaison for the Kansas Department of Transportation, will be the primary contact between KU and state government officials in her new $85,000-a-year position.
"Lindsey's experience in state government, her advocacy work and legal training will make an outstanding addition to the public affairs team at the University of Kansas," said Tim Caboni, vice chancellor for public affairs at KU.
Douglas has served as chief of policy and legislative affairs at KDOT since August 2010 and joined the agency in 2009. She played an integral role in the passage of T-WORKS, the 10-year, $8 billion statewide transportation construction program, KU said.
"I am very excited to work with the KU team to promote and represent our state's flagship institution with the Kansas Legislature," said Douglas, who received a bachelor's degree in public administration from Washburn University and a master's degree in environmental law from Vermont Law School.
Douglas has also worked for the Kansas Department of Agriculture and the Hein law firm and has been a presence in the Statehouse for the past eight legislative sessions.
Douglas will replace Kathy Damron, who had lobbied for KU for years and who will remain as a consultant during the transition period, Caboni said.
Douglas will work only for KU and play a primary role in the school's revamped state relations effort, Caboni said.
Caboni said KU needs to adjust to the legislative elections of 2012, which produced a more conservative and less experienced Legislature.
Last session, Republicans, who hold significant majorities in the Kansas House and Senate, cut KU funding by $13.53 million. Gov. Sam Brownback, also a Republican, signed those cuts into law.
KU has said the cuts fell especially hard on the KU Medical Center, which has reduced enrollment and laid off staff.
Caboni said KU must do a better job of showing legislators how KU and higher education affects their communities.
And he said KU would work on developing deeper ties in communities across the state. "You can't focus only under the (Statehouse) dome. You need to be out and about," he said.
He also said that top KU leaders, including Chancellor Bernadette Gray-Little, Provost Jeff Vitter, and Doug Girod, executive vice chancellor of the KU Medical Center, will be more available to talk to legislators during the session that starts Jan. 13.
Copyright 2018 The Lawrence Journal-World. All rights reserved. This material may not be published, broadcast, rewritten or redistributed. We strive to uphold our values for every story published.