This is a perfect time to consider landscape planning.
Almost all of our outdoor work is curtailed because of the cold weather and nothing is growing. We are not now distracted by a flower's beauty, plant texture, fall color or green grass. What we can think about is how we want to use our landscape.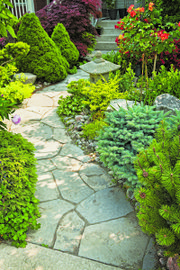 Alan Stevens, of the K-State Research and Extension Center in Olathe, and Jamie Hancock, Shawnee County horticulture agent, recently presented a nine-hour class on just that topic.
One of the big lessons was this gem from Stevens: "Forget the plants; things that grow are the last element selected in good landscape."
In other words, focus on the framing and structural elements: where the plants will go rather than the plants themselves.
Hancock noted that "the layout of space in a landscape gives us areas to do different activities; gardening is one of those activities." Emphasis on one.
Good architects first ask: What do you want to do in this house? They do not ask the color of the walls. We need to ask ourselves the same question first. In a house we want to prepare food, eat, entertain, play games, sleep, have private space, store stuff, etc. So too in a landscape we want to do specific things. In a house we want to move from room to room, through the halls with a roof over our head. In a landscape, paths and walkways provide the halls; awnings, trellises and trees the ceiling.

In a similar manner windows are placed to facilitate the view and give an open feeling to a house. Windows are not placed where we look at objectionable sites or where others can see ours. In a landscape, framing with trees helps direct our view. Hedges and fences are walls and provide the screening for privacy.
Life was so much simpler when I could just buy a beautiful plant and later figure out where I wanted to put it. Now I must think about its function before I buy it. That is the intent of good landscaping.
— Stan Ring is the Horticulture Program Assistant for K-State Research and Extension in Douglas County. Extension Master Gardeners can help with your gardening questions at 843-7058 or mastergardener@douglas-county.com.
Copyright 2018 The Lawrence Journal-World. All rights reserved. This material may not be published, broadcast, rewritten or redistributed. We strive to uphold our values for every story published.