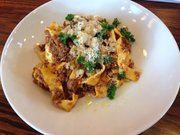 We really don't need another reason to indulge in a plate of pasta, but the bison bolognese at Merchants Pub and Plate just gave us one.
Atop the large, supple house-made pappardelle noodles is a generous helping of slow-cooked bison ragu, sprinkled with fennel-orange gremolata and Parmesan. The subtle touch of citrus folded into each bite of meaty pasta almost makes the dish feel light. It's carbs though; "almost" is still miracle.
Merchants is a proud supporter of the local food scene, listing at least 20 regional locations for many of the ingredients on the back of the menu, and the bison in this dish is purchased from Prairie Band in Topeka.
Where to get it: Merchants Pub and Plate, 746 Massachusetts St.
What you'll pay: $16, plus tax
Try it with: A beer float for dessert. With five flavors of ice cream and 30 beers on tap, your server is sure to find a combination fit for your taste buds. Also keep in mind that on Sundays, beers are half price.
Also on the menu: With gourmet pub food being the central theme, Merchants' chefs can make a fine-dining experience out of anything, including truffle deviled eggs, rabbit-apple sausage, short-rib sloppy joes, crispy walleye (lake fish turned fancy), and kale and white bean griddle cakes. Items on the menu are labeled gluten free (GF), dairy free (DF) or vegan (V); some are labeled if they can be modified to fit those dietary restrictions. It's quite possibly the most inclusive menu I've ever seen.
Copyright 2018 The Lawrence Journal-World. All rights reserved. This material may not be published, broadcast, rewritten or redistributed. We strive to uphold our values for every story published.