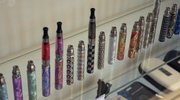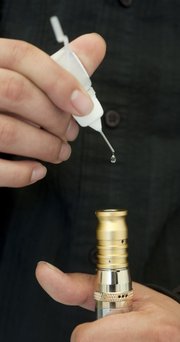 Stephen Sealey believes electronic cigarettes saved his life.
He had trouble quitting the real kind, even after breathing problems caused him to once pass out behind the wheel of a car and, later, be diagnosed with emphysema.
He's 37.
In March of last year, he turned to e-cigarettes, battery-powered devices that dispense nicotine through a vaporized liquid, to try to kick his over-two-decade-long smoking habit. It worked, he said, and in the process he's been able to save money and cut down on his nicotine intake.
"I went from being told I had six months left to live and on oxygen support to 80 percent lung function and no expiration date," said Sealey, who lived in Lawrence before moving recently to southeast Kansas. "My doctors are ecstatic that I switched and happy that I stayed switched. Every day now is a victory."
Despite the prevalence of stories like Sealey's, many public health and medical professionals have yet to endorse e-cigarettes as safer alternative to the traditional variety. Neither has the U.S. Food and Drug Administration, which has announced its intention to regulate e-cigarettes but has yet to write any rules.
With little government oversight, e-cigarette makers are free to manufacture their products how and with whatever chemicals they choose.
"Because it's not regulated right now, it's essentially the Wild Wild West," said Charlie Bryan, community health planner for the Lawrence-Douglas County Health Department, adding: "These tobacco producers are creating products that contain chemicals that are not well-understood, with flavors that appeal to children."
Public health officials often cite the Centers for Disease Control and Prevention's recent findings that e-cigarette use among middle and high school students doubled between 2011 and 2012. And they say e-cigarette makers are targeting children by making nicotine vapor in a wide variety of flavors, including bubble gum, Fruit Loops and Good & Plenty.
Last year, the Kansas Legislature stepped in and banned the purchase and possession of e-cigarettes by minors. And while e-cigarettes aren't subject to the state's indoor smoking ban, organizations across the state have been writing the devices into their smoke-free policies, including, locally, Lawrence Memorial Hospital and the Lawrence, Baldwin City and Eudora school districts.
Another concern for health advocates is the fact that Big Tobacco is increasingly backing e-cigarettes. In Kansas, tobacco company lobbyists have been encouraging state lawmakers to champion e-cigarettes as a less-harmful alternative, like allowing state employees who use the devices to pay a smaller health insurance premium than traditional smokers, according to state Rep. John Wilson, D-Lawrence.
'No safe cigarette'
For many in the medical community, though, the science just isn't there.
"There is no safe cigarette and there will never be a safe cigarette. It's like saying, 'What's better — a lot of arsenic or a little bit of arsenic?'" said Charles Yockey, a pulmonary specialist at Lawrence Memorial Hospital. "I've been studying the human body for a lifetime, and if you go back to the original design, your lungs were never meant to be an incinerator."
Some researchers have found that e-cigarettes contain substances that are carcinogenic or toxic, said Babalola Faseru, assistant professor of preventive medicine and public health at Kansas University Medical Center. And without regulation, advertised nicotine levels aren't being verified, he added.
"Few studies have examined whether e-cigarettes are safe or more effective than existing smoking cessations aids" like nicotine gum and patches, said Faseru, who predicts it will be years before the public health community takes a definitive stance on the devices.
But others say that anything that can get people to stop smoking is good. Jack Tran is the owner of the newly opened Juice-E-Vapes, 1216 E. 23rd St., and a former tobacco user who says he was able to overcome his own addiction with the help of e-cigarettes.
At his store, Tran, 21, makes the liquid himself, listing the ingredients right on the product: propylene glycol, vegetable glycerin, natural and artificial flavoring, water and/or alcohol, nicotine. That's compared, he says, with the "thousands of chemicals in cigarettes."
Not only that, he says, but with e-cigarettes users are able to satisfy their oral fixation while controlling the amount of nicotine they're consuming. And, he added, their clothes and breath no longer stink.
"You just feel a lot better," he said.
Tran started smoking when he was 16 but got spooked when his dad, a longtime smoker, died from lung cancer at the age of 56. On a recent day at his business, Tran took a drag off his e-cigarette, blew into a paper towel and showed a visitor how its color didn't change, which wouldn't have been the case with a normal cigarette.
"I really don't even have to have nicotine anymore. It's more of a hobby at this point," said Tran, as he exhaled what looked like a cloud of smoke but quickly disappeared and smelled of fruit. "I can quit anytime I want."
Copyright 2018 The Lawrence Journal-World. All rights reserved. This material may not be published, broadcast, rewritten or redistributed. We strive to uphold our values for every story published.