About this story
Micki Chestnut is communications director for the United Way of Douglas County, which provides occasional features spotlighting local volunteers and charities supported by the United Way.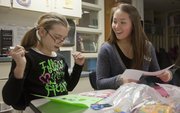 "You always hear about the starving children in Africa, and the polar bears dying in the Arctic, but we have problems here in Douglas County, too. There are kids who don't have enough to eat, and people going to Health Care Access clinic because they don't have health insurance," said Hannah Moran, a senior at Free State High School, explaining why she has made volunteering a top priority in her busy schedule.
Every week, she slots in time around pre-med club, the gymnastics team, the debate squad, the school newspaper and Model United Nations, to be a Big Sister to a fourth grader at Quail Run Elementary.
Moran is one of 27 Free State High School students serving as mentors in the Big Brothers Big Sisters of Douglas County's Bigs in Schools program. While the school-based mentoring program isn't new, this collaboration between BBBS and Free State High School is. Moran was instrumental in working with the BBBS staff, the Free State High School administration and the United Way of Douglas County to develop this successful partnership, in which high school students are targeted as mentors.
Using suckers as bait, Moran manned a Free State Bigs in Schools information table at school last spring and started delivering her compelling pitch: "It is so easy to do, and it makes such a big impact," she told student after student, urging them to give 30 minutes a week to help change a kid's life. "Recruitment was very successful," Moran reported.
The BBBS staff was thrilled with the number of Free State students who applied to be Bigs and hopes to expand the program to other area high schools, said Leilani Tuttle, area program director for BBBS.
The Free State Bigs were matched with Littles at Quail Run, Sunflower and Deerfield elementary schools, where they spend time with their Littles doing anything from homework to crafts to playing basketball. The activity isn't so important, Tuttle said. The relationship that forms is.
A three-year study by the Austin Group found that 71 percent of Kansas children involved with Bigs in Schools improved their academic performance, 50 percent had fewer unexcused absences from school and 67 percent reported that their attitude toward school improved, Tuttle shared.
"My goal is to be a friend. I want to make her feel important and feel listened to," said Moran, who still remembers how envious she was when one of her classmates in elementary school had a Big Sister. "She got pulled out of class by this really cool college kid to chat and paint nails. I was so jealous! I idolized anyone who was that age."
"The cool factor is high," agreed Tuttle, explaining that when the elementary students spend time with high school students who have a positive attitude and are focused on academic success, it motivates the children to succeed in school as well.
"The high school students benefit, too," Tuttle added. "They learn the value of volunteering and mentoring. It makes them better citizens, aware of the community and the needs of others. It teaches them the importance of making a commitment and sticking with it."
Moran can attest to the impact volunteering can have on a person's life. She's been an active volunteer since she was in junior high, and the experience has been eye-opening, she said.
"All the work I have done with the United Way of Douglas County, helping with the [United Way Roger Hill Volunteer Center] Summer of Service, it's broadened my horizons. I've been exposed to so many things I would have not known about. So many people have so many problems; it's put everything into perspective."
Copyright 2018 The Lawrence Journal-World. All rights reserved. This material may not be published, broadcast, rewritten or redistributed. We strive to uphold our values for every story published.