Name: Rhen-Elyse Ward
Age: 27
Relationship status: I've been seeing someone for about five years.
Hometown: Lawrence.
Occupation: Right now, I coach women on lifestyle design, and I'm also in school for strategic intervention: I work with people in solving their problems, meeting their goals and just becoming more of who they are.
Dream job: My dream job would be to perform as a jazz or blues singer and also have workshops on the side to help people activate their creativity.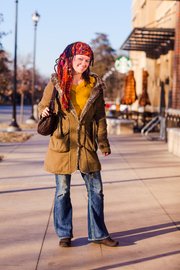 What were you doing when scouted? I just got a tattoo and I was waiting for my ride.
Describe your style: My style is pretty free-form. I like layers and I never really wear black. I tend to wear "earthen" colors and natural types of fabrics. I pay attention to texture and colors that work for me.

Fashion trends you love: I love boots and imitation leather and furs but I don't know if that's a trend. I also really love natural hairstyles.
Fashion trends you hate: I think it should always be an individual expression. People are all too different for one thing to be hot for everybody.

Fashion influences: Sometimes I'll see people with something that I like and I'll end up mimicking it and tailoring it to what my style is, but a lot of the time, it's me digging through old, discarded clothes and finding things I can do something cool with.
What would you like to see more of in Lawrence? I think Lawrence is pretty fashion-forward for being a Midwestern college town. I love what I see on the streets. I think it's fun.
Less of? I always encourage people to be more of who they are and take risks and not be afraid of that.
Tattoos or piercings: I just got a tattoo of the medallion (that) the Wizard of Oz gave the cowardly lion that stands for courage.
Whom do people say you look like? Julia Styles when I was younger. I look too different to look like any one person.
What type of music do you like? I really like jazz, blues and R&B.; Amy Winehouse was a real favorite artist of mine.
Tell us a secret: Honestly, I do care about what people think and I do have insecurities. Most people who know me don't think that. Everyone is not going to agree with you or appreciate you or understand what you're trying to communicate. But it's worth it, so being afraid and insecure is fine. I'm sensitive even though I'm strong and I make strong decisions and am willing to take risks.
Copyright 2018 The Lawrence Journal-World. All rights reserved. This material may not be published, broadcast, rewritten or redistributed. We strive to uphold our values for every story published.