Doughnuts are not an everyday breakfast item, at least not in my household. The warm, doughy goodness decadently coated with sugar — and sometimes topped with happy sprinkles or an additional layer of frosting — is certainly a celebratory way to greet the day!
Life would be grand if this were my typical morning treat; however, doughnuts are usually reserved for special occasions. Now that the holidays are in full swing, it seems there is no better moment to seize the opportunity. So let's talk doughnut experts: Munchers Bakery.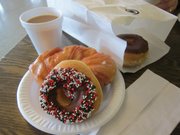 Tucked away in a strip mall off Iowa Street, the Munchers Bakery location is spacious and filled with natural light. The open floor plan with basic wooden tables and chairs makes it an ideal place to hole up and get some work done (with the sugar rush of a doughnut only steps away). Unlike a bar or most coffee shops, Munchers is open 24 hours, which means you don't have to worry about closing time or last call (although, maybe a "last call" for doughnuts wouldn't be such a bad thing).
All of these details make up what I appreciate most about this shop: its laid-back, no-frills vibe. Come in for a doughnut (or five), stay as long as you'd like, clean up after yourself as you leave.
While its surroundings may be fairly ordinary, the doughnuts are certainly noteworthy. I ordered a chocolate iced and a strawberry knot while my partner went with a chocolate iced and a long john. With hot coffee to balance the doughy sweetness, we were set to indulge. The doughnuts were ideal: the slightly crispy, sugar-doused exterior made the inner lightness divine. Now let me tell you, I would have loved to take advantage of the 24-hour schedule and taste each and every item in the display case, but I stopped with two and called it breakfast. At $4.57 for four doughnuts and two coffees, my tummy and wallet were satisfied.

Munchers is known for its doughnuts, but also offers coffee cakes, Danishes, cookies, cinnamon rolls, sticky buns, croissants, bagels and more. If you have a special event coming up and doughnuts won't exactly do the trick, call Munchers and place a special cake order (see pictures of past works on their mouth-watering Facebook page). Believe it or not, I didn't realize they were special for their cream cheese doughnuts until after my visit, so it looks like I'll have to return in the near future to see what those are all about. And maybe I'll also taste the cinnamon rolls. And the Danishes. And the croissants.
— Jessica Pauly, aka Mrs. Mass., gives her thoughts on shopping, urban living and what's new in Lawrence in CheckOut weekly and on her blog, mrsmass.com.
Copyright 2018 The Lawrence Journal-World. All rights reserved. This material may not be published, broadcast, rewritten or redistributed. We strive to uphold our values for every story published.