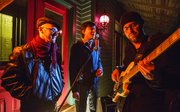 It's been said that the best days of your life are in college, but who says you can't keep moments from those days alive?
Bass player Dave Shelton adopted that mentality when setting up his first annual holiday soul cover show six years ago upon his return from New York to Lawrence. Shelton studied jazz performance at New School University in Manhattan, but he spent most college breaks throwing massive house parties in Lawrence where his soul cover band, James Lipton Funk Experience, would entertain.
"They were the most ridiculous, probably memorable for all the wrong reasons, kind of parties," Shelton says.
Lawrence youngsters couldn't help but flock to them, he says. Shelton wanted to bring that back to life during the holidays and his first trip back to Lawrence in a few years. He called up past Funk Experience vocalists Gina Lorenz and Hugh Naughtin, and the three threw together a new soul group and song lineup for the first-ever Christmas Eve Soul Shakedown, drawing in Lawrence townies from near and far.
And so began house party experience 2.0; the party venue (several steps up) would be the Eighth Street Taproom.
"A lot of people coming back remember us from our house parties 10 years ago, and it's kind of a continuation of that," Shelton says of the regular attendees. "It was pretty word of mouth and pretty townie heavy, but these are the people who would be in Lawrence on Christmas Eve."
The core eight-piece band consists of Lawrence-based artists and artists who have moved away, like Shelton, but who got their musical start here. They learn a three-hour set of classic funk and soul, along with lesser-known funk songs to keep guests on their toes, Shelton says.
"If you're going to leave the house on Christmas Eve, you're going to want it to be a little different from anything else that you would see throughout the year," he says.
This year's lineup features Al Green's "Let's Stay Together," Marvin Gaye and Tammi Terrell's "Ain't No Mountain High Enough," Chaka Khan's "Sweet Thing" and Tower of Power's "Can't You See You're Doing Me Wrong," among many others.

Shelton decided on a set list in October and sent out the titles via email for each band member to learn before the one main rehearsal they'd all have together before the show.
"The good thing is all these people are so good that we end up pulling it off," he says. "I'm always surprised at how much work they all put into it."
Dave Shelton's Christmas Eve Soul Shakedown has been going strong since 2007, the number of attendees increasing every year. The show starts at 10 p.m. on Dec. 24 and will feature video projection art by Anson the Ornery. He will manipulate clips from "Santa Claus Conquers the Martians" and "Santa Claus vs. The Devil" to add ambiance to the Christmas cheer.
This year will be the first time they've held it at Jazzhaus, 926 Massachusetts St. The previous five years were at the Taproom. Cover charge is $3.
"The last couple years have been packed shoulder to shoulder, so we're taking it to a bigger room, and a bigger stage," Shelton says. "I see the same people coming back. And every year I see new people. It's a pretty broad audience, young and old."
Michael Hamm, local guitar instructor and SUNU guitarist, says that the atmosphere at the holiday show will be particularly fun for returning musicians this year because it's being housed at a venue where all of them have likely played before.
"The Jazzhaus has always been such a special place to musicians in town," Hamm says, noting the venue's kindness to new local artists. "It seems like fate that we're doing it here."
Copyright 2018 The Lawrence Journal-World. All rights reserved. This material may not be published, broadcast, rewritten or redistributed. We strive to uphold our values for every story published.