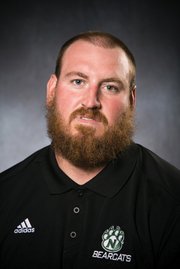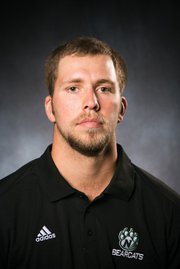 All that two area football standouts could do four years ago, fresh out of high school, was partake in a Northwest Missouri State student tradition. Whenever the Bearcats win a national semifinal on their home field, students empty out of the stands and tear down both sets of goal posts.
Cody Carlson and Joel Gantz were red-shirts then, practice players whose four-year eligibility clocks would start ticking the next season. From the moment they finished celebrating four years ago, each made it his goal to trigger the tradition and then sit back and watch it unfold.
Carlson, an offensive guard from Eudora High, and Joel Gantz, a tight end out of Perry-Lecompton High, accomplished that goal Saturday and share a bigger one, the ultimate one, in Florence, Ala., site of the NCAA Div. II football national championship.
Northwest Missouri State (14-0) meets Lenoir-Rhyne (13-1), a liberal arts university in western North Carolina. The Saturday game that kicks off at 11 a.m. will be carried live on ESPN2.
The Bearcats qualified for the title game with a 27-13 victory against Grand Valley State in Bearcat Stadium, an on-campus stadium built in 1917, where the Maryville, Mo., school has gone 8-0 in national semifinals.
Carlson, first-team all-conference and all-region, and Gantz, who received all-conference honorable mention, are fifth-year seniors and two-year starters, a common profile at a perennial powerhouse where younger plays typically must wait their turn. (Quarterback Brad Strauss and cornerback Erick Mayo of Lawrence High red-shirted this season, as did Zach Callahan of Mill Valley High).
Carlson and Gantz both have rings from their redshirt seasons in 2009, when the Bearcats won their third national title.
"We feel like we earned it a little because we worked hard and helped get the team prepared, but when you play in (the games) and earn it, I'd be wearing that thing every day," Carlson said. "Ever since I stepped on campus for a summer camp my sophomore year (of high school), this has been my dream."
Carlson reached deeper into his past to credit his first offensive-line coach, Tim Pinnick. Carlson said Pinnick taught him, as a third-grader playing for the Lawrence Hurricanes, the two most important football lessons he carries with him every time he takes the field for a practice or game to this day.
"He was the greatest role model," Carlson said of Pinnick. "He expected us to be tough and mean as offensive linemen. Those are two things I really pride myself in, being tough and mean. This is my 15th year playing offensive line, and he's still one of my favorite coaches. He was someone you wanted to play well for and make proud. And when you did, he told you that you made him proud."
Named team MVP for Eudora in 2008, Carlson played for Gregg Webb, who attended his game Saturday. Carlson's high school career ended with a loss to Gantz's Perry-Lecompton team in district play. They have become close friends at Northwest Missouri State.
Carlson is on course to graduate in May with a major in physical education. He'll spend next semester as a high school and elementary school student-teacher in Eudora. He would like to teach phys-ed, but has a backup plan.
"An ex-teammate is working in oil fields," Carlson said. "I'm thinking about taking the money and the life experience, seeing the world, then going back to teach."
That's not on his mind at the moment.
"I'm trying to live in the moment before I have to worry about going into the real world," he said Tuesday, the day before the team was scheduled to fly out of St. Joseph, Mo. "This (national-title game) has been my dream for a long time."
Gantz graduated Friday, the day before earning a trip to Alabama. He studied agricultural science. During the summer, he lifted weights with teammates in the morning and worked at a nearby farm. He knows exactly where he's headed after Saturday's big game: back to the family farm in Perry, where he'll bring the knowledge he learned in class and at someone else's farm back to the fields he worked during his youth.
"Corn, soybeans and cattle," he said, then gave an idea of what a typical day might look like. "Wake up, do chores all day, do chores at night. Depends on the time of year. In spring: working the ground, getting stuff ready to plant for spring crop. Summer: a lot of haying for cattle, building fences. Fall: harvest and all that."
Farm-strong muscles expanded in the weight room will come in handy Saturday. Win or lose, Carlson, Gantz and the rest of the seniors will take away something stronger than anything that could be built pumping iron: friendships for life with a bunch of men who learned how to sacrifice selfish needs for the good of all. There is no other path to a national title in football.
Copyright 2018 The Lawrence Journal-World. All rights reserved. This material may not be published, broadcast, rewritten or redistributed. We strive to uphold our values for every story published.