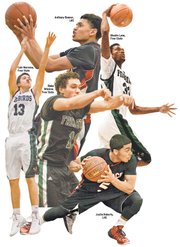 A little more than a year ago, the football programs at Lawrence High and Free State treated the city every week with two of the most exciting teams in the state.
This winter, expect that same kind of entertainment on the basketball court.
The Lions (3-1) and Firebirds (3-1) both began the season in the top 10 of the Class 6A rankings, and it would take some significant upsets for either of them to get knocked out at any point in the coming months. Although both teams lost this past Saturday — each against one of 5A's elite — those setbacks don't make them any less dangerous.
Lawrence has a devastating backcourt duo in sophomore Justin Roberts and junior Anthony Bonner. If they seemed hard to guard last year, opposing coaches will be pulling their hair out, slamming their white boards and stomping their feet even more now, because Roberts and Bonner will keep blowing by defenders and hitting contested three-pointers from now until the end of the season.
Free State can waste foes in a slightly different fashion. One never knows which players might take over at any point of a game. It could be the Firebirds' most athletic option, senior slasher Khadre Lane, a dynamic finisher in transition who can fly higher than any other Firebird. Or smooth senior shooter Cole Moreano, capable of spotting up from three-point range or posting up an undersized guard. Basketball strongman Blake Winslow, also a senior, imposes his will with force, and that can come on a crushing screen followed by a roll to the rim or by pounding the offensive glass.
Here's the great news about having two of the best teams in the state playing in the same city: We get to watch them battle twice this season. And the bonus holiday gift: Part 1 of the City Showdown comes Friday, at LHS, in The Jungle.
The must-see hoops display is scheduled to start at 7, but be advised to get there way earlier — unless you prefer standing or peeking through doorways from the lobby when you watch basketball. These games tend to be memorable, and you'll want to claim a seat in the sure-to-be packed gym.
Even when one team is considered to be in the middle of a down season and there is a perceived heavy favorite, City Showdowns have a way of coming down to the final possession and/or producing unexpected heroes.
With the kind of talent competing for the city's bragging rights this year, go ahead and count on fireworks, because both the Lions and Firebirds are good enough to make it to the 2014 state tournament.
FSHS coach Chuck Law, in his ninth season leading the program, thinks the last time both teams were this good simultaneously was the 2007-08 season, when Dorian Green and LHS lost in the 6A championship game to Wichita Southeast, and the Firebirds finished 13-8 with a sub-state loss.
Friday's game won't have too much bearing on either team's chances of making it to state, but it will have a championship-game environment and the kinds of players who will send fans in both green and red into frenzies.
The fun will come in seeing who sends the decibel levels into unbearable territory. Collectively, Roberts, Bonner, Lane (who at this point is questionable because of a leg injury), Moreano and Winslow figure to make that happen at least a dozen or so times.
But who else will light up The Jungle?
Firebirds Keith Loneker, Reshawn Caro, Weston Hack, Tristan Garber, Justin Narcomey, Innocent Anavberokhai and Keegan McKinney will play key roles, too, against the likes of Lawrence's strong supporting cast of Connor Henrichs, John Barbee, Price Morgan, Ben Rajewski, Anthony Riley and Fred Brou.
Get your popcorn ready. It's almost time for the show.
Copyright 2018 The Lawrence Journal-World. All rights reserved. This material may not be published, broadcast, rewritten or redistributed. We strive to uphold our values for every story published.