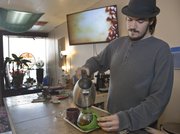 Mellow music playing on a stereo inside ManaBar Artesian Teas, 1111 Massachusetts St., greets customers at the two-month-old store, opened in the former location of Curry In A Hurry.
In a location that once promoted in-and-out convenience, the new tenants — former Kansas University classmates Nathan Long and Matthew Rader — now promote a mellow, laid-back experience.
Chief among the products offered are a Polynesian root-based drink called kava, which is purported to provide a relaxing sensation, and a tea-like substance from the coffee family called kratom that Long and Rader say many customers seek out for pain relief.
"We wanted to bring something new to Lawrence," Rader said. "I wouldn't necessarily proclaim that we're out there as health gurus or anything, we just want to offer interesting herbals."
Although kratom has been the subject of news reports about the potential for misuse and has been put in the same category as legal drugs like bath salts and synthetic marijuana in some cities, local police say the drug is not on their radar.
Sgt. Trent McKinley, a Lawrence Police Department spokesman, said the department's Drug Enforcement Unit supervisor said "he didn't know of anything remarkable about it at this time."
Long and Rader said they didn't want to glorify the effects of kratom, which typically range from pain relief to euphoria, they said. The product is sold at ManaBar in its powdery, almost tea-like form, a contrast to the colorfully labeled bags of pills the two have seen other companies sell and that seem to promote its recreational use.
ManaBar is stocked with loose-leaf teas ranging from jasmine green and oolongs to a rare fermented Chinese tea called pu-erh, which comes in individually wrapped pellets and brews quickly.
ManaBar seeks to fill a niche its two owners say was lacking in Lawrence, Rader said.
"We wanted to open a kava bar because there are no kava bars in the Midwest, they're all on the coast or Hawaii," Long said. "It's really an amazing plant and an amazing drink."
The store is open from 12:30 to 8 p.m. weekdays and 10 a.m. to 10 p.m. on weekends. Long and Rader recently installed large flat-screen televisions and plan to broadcast sporting events. Customers can buy tea leaves in bulk or can have a cup in the store: $3 per cup or $5 per pot.
Copyright 2017 The Lawrence Journal-World. All rights reserved. This material may not be published, broadcast, rewritten or redistributed. We strive to uphold our values for every story published.