I don't ask for camera equipment for Christmas. I don't even drop hints. I realize that suggestions regarding photography related gifts only confuse my wife.
Even with the best of intentions, my wish for a telephoto lens might result in a telescope instead. Of course, it's the same in reverse. She's a yoga instructor and a couple of years ago I could just as easily have presented her with the autobiography of Yogi Berra rather than the desired "Autobiography of a Yogi."
If you're not that knowledgeable about what photography-related gifts to get your favorite shutterbug, a safe alternative can be books. I tend to like photo books that feature a single photographer and include information about their life and work with plenty of samples of their images. Here's a short list of potential stocking-stuffers. Possibly my wife will read this column.
• "Untold: The Stories Behind the Photographs" by Steve McCurry. This book documents 14 photo stories from McCurry's 30-year career as a globe-trekking photojournalist. Alongside the images are diary entries, assignment sheets, anecdotes and narrative text about the photos.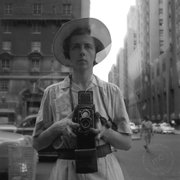 • "Vivian Maier: Self-Portraits" by John Maloof. I've suggested other books on Maier in the past. Unknown as a photographer during her lifetime, her 120,000 negatives were discovered after her death in 2009. Many now consider her a master of black-and-white street photography. This collection features 60 witty and creative images of herself that give a far richer meaning to "selfies."
• "The Art of the Photograph: Essential Habits for Stronger Compositions" by Inc. Art Wolfe and Rob Sheppard. Beautiful nature and landscape photography by Wolfe, plus insights and techniques to inspire any photographer. More than just a book of good images, Wolfe describes how he approaches his subject and uses the camera to construct a photograph. Plenty of insights and explanation of visual tools and devices for every level of photography.
• "Genesis" by Sebastiao Salgado. Beautiful black-and-white photography from around the world documenting wild and serene landscapes, indigenous peoples and exotic wildlife. Many images look as if they were photographed before humans inhabited the planet. Stunning visuals and a reminder of how vast, unique and fragile the world is.
• "Elliott Erwitt's Kolor" by Elliott Erwitt. Erwitt is one of my favorite photographers, and his wit and deftness with a camera always make me smile. Known mostly for his catalog of black-and-white work, this large collection focuses on previously unpublished Kodachrome images. Marilyn Monroe, the KKK, Nixon and hundreds of others. Not a lot of text, but a lot of delightful, eye-pleasing images.
Copyright 2018 The Lawrence Journal-World. All rights reserved. This material may not be published, broadcast, rewritten or redistributed. We strive to uphold our values for every story published.