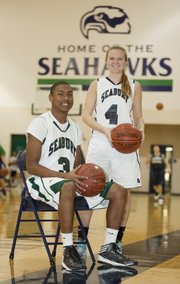 Some might consider a one-win season forgettable or of no use to the development of a program. Bishop Seabury Academy boys basketball coach Ashley Battles doesn't happen to be one of those people.
The Seahawks finished 1-17 a year ago, but the players who endured those on-the-court hardships learned the value of competing when the odds are against them.
"Last year's seniors had a zero-quit mentality," Battles said, "and that appears to have carried over to the early practices this season."
Senior guard Marcus Allen and sophomore forward Thomas Uhler return from last year and are trying to share what they've learned with a group of talented newcomers. Junior guard Bryce Copeland and 6-foot-3 sophomore twin forwards Avery and Jomain Rouser figure to become key members of the rotation, as does freshman guard Mikey Wycoff.
The combination of youth and inexperience has Battles excited for the future — both this year, starting with today's opener at Axtell, and down the road — because he has never seen ninth-graders with the toughness and work ethic of his freshman class.
Battles knows things will get difficult somewhere along the line this year, but he trusts guards Allen and Wycoff to rise to the occasion.
"Mikey Wycoff has a chance," Battles said, "to be the best player that's come out of Lawrence in a very long time."
Girls basketball
Seabury's girls basketball team graduated seven seniors from last season's 9-10 team that lost in the second round of sub-state, but coach Keith Smith has four players back for his second year on the job.
Although team leader Mariah Smith is the only returning senior, because classmate Emma Stilgenbauer is expected to miss the season after suffering an ACL injury, the Seahawks have junior wing Reilly Malone, sophomore guard Regan Zaremba and sophomore forward Tanisha Kaur back, and they rolled to a 44-16 victory against Independent Home School in their season opener.
They did so with contributions from four new players: senior Elizabeth Padget, sophomore Ellen Almanza and freshmen Kayleigh Boos and Celia Taylor-Puckett.
"Two-thirds of the team is new," Smith said, "and of those, a couple have played basketball in their past, while others have never played at all. So the early challenge is simply trying to get the team ready to compete with a broad range of knowledge and skill. I have been pleased with their efforts, and we should look completely different by mid-season."
Copyright 2018 The Lawrence Journal-World. All rights reserved. This material may not be published, broadcast, rewritten or redistributed. We strive to uphold our values for every story published.