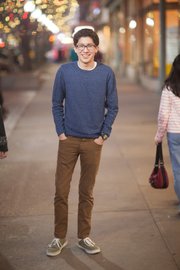 Age: 16
Hometown: Lawrence
Occupation: I'm a junior at Free State and I work at Dillons.
Favorite subject/dream job: I like English a lot and I'm really interested in photography. I'd like to be a professional photographer for a big magazine.
What were you doing when scouted? I just bought some stuff from Urban Outfitters.
Describe your style: I guess I like bolder and dark colors. I like sweaters and usually skinny pants. Most people say I have a really hipster style although I'm not sure what that means. I guess it's whatever just looks good on myself.
Fashion trends you love: I really like big sweatshirts because they're really comfy and they actually look good on a lot of people.
Fashion trends you hate: Really long basketball shorts or sweatpants. It looks like you're really not trying at all.
Fashion influences: Looking at other people on the street and just knowing what's good and what is out. I also feel that Lawrence has a lot of well-dressed people so I get inspired by them.
What would you like to see more of in Lawrence? I would like to see a lot more cultural activities in Lawrence. I think it is a pretty diverse place but I think it would be cool to have a lot more activities downtown for sure.
Less of? Less people that wear sweatpants (and) less people that don't try. We need more energetic and happy people.
Whom do people say you look like? No one in particular.
What type of music do you unwind to: I like a wide variety of music. My favorite is Lana Del Rey and my guilty pleasure is Ke$ha.
Tell us a secret: I just asked a girl to formal for the first time and I am so excited to go with her!
Copyright 2018 The Lawrence Journal-World. All rights reserved. This material may not be published, broadcast, rewritten or redistributed. We strive to uphold our values for every story published.