This is the time of year for gift-giving, and a gardener should be given a gift they can use, not one that uses them.
This can be tricky because gardeners will seldom admit they need anything. They are used to doing things a certain way with a certain instrument. But tools change and so do we.
Here's a good rule to follow: Garden tools challenge rocks, fight the earth, endure weather, and survive frustration and misuse, so durability is key.
Color is also important. Tools that are brown/black/green blend in easily and are easily lost. Red/orange/yellow tools are recovered quicker.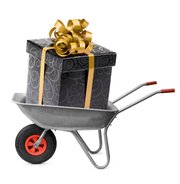 Ergonomic tools, meaning tools that better take advantage of and protect the bodies of the people who use them, are becoming more popular, and for good reason. Hand tools with a vertical handle versus the horizontal grip we are used to are certainly more comfortable to use and easier on our bodies. These allow the natural position of the arm and wrist to apply the axial force for the work. Radius brand tools with the green handle are the most notable. This trend extends to shovels, hoes and rakes as well, and many manufactures are picking up on this improvement.
Pruners are sometime a choice of feel in the gardeners' hands. Bypass pruners are by far the best choice. These cut with a shearing action like scissors as opposed to the crushing action of the anvil pruner.
Anvil pruners almost do more damage than good. Try cutting a piece of paper by laying a knife edge on the surface and only pressing down. Chances are all you did was emboss the paper.
Felco brand with its replaceable blades and springs is a preferred choice. Because these see a lot of repetition for the hand, do not skimp on the cost. I make the same recommendation for loppers as well, but because they are not used as often I could give in on this.
For stocking-stuffers, cheap kitchen shears for twine and labels are great, especially if they lose them or leave them in the rain. If they already have a pruner, get them a belt holster to carry it.
Garden Weasels and other brands of nut-pickers are gaining popularity with those of us who have walnuts or acorns to deal with. The spring-loaded rollers will pick up a good portion of these fruits without the repetitive bending.
Rogue brand U.S.-made hoes and rakes are some of the most durable I have seen. These will last long into my grandchildren's generation even if used daily. For speed, I use a stirrup or hula hoe, as it cuts young weeds quickly with minimal effort.
Most ferrous metals rust, which inhibits function. If possible, aluminum alloys or stainless steel tools are preferred. They look better, last longer and are easier to clean. Wood handles are also cheap, but for the same reasons, the fiberglass is preferred. Beware that plastic coatings wear off easily.
Do not underestimate the gift card (or cash). Let us picky gardeners make the hard choices. Know too that if you buy a tool, you may be expected to use it.
Copyright 2018 The Lawrence Journal-World. All rights reserved. This material may not be published, broadcast, rewritten or redistributed. We strive to uphold our values for every story published.