It may not be manufacturing any toys, but the Toys for Tots store in Lawrence sure did resemble something of a northern toy workshop Tuesday when it opened its doors for the first time this year.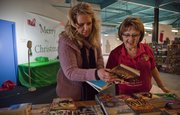 With volunteers hauling bags, trolleys and armfuls of donated toys into the store and onto shelves, numerous parents stopped by the store to collect gifts for their children.
The store, located at 4931 W. Sixth St., suite 118, between Lada Salon & Spa and Bank of America, is open from 10 a.m. to 6 p.m. Tuesdays through Fridays and from 9 a.m. to noon Saturdays until Dec. 24.
A wide variety of gifts line the shelves, including board games, dolls, action figures, books, squirt guns, Legos and sports balls. An area reserved for 13-17 year-olds also features things like bubble bath soap, cologne and dart boards.
Mary Jones, a volunteer coordinator for Toys for Tots, said Tuesday afternoon over a hundred people had already visited the store.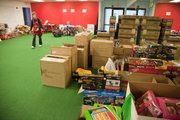 Jones said every family receives one board game, while each child also receives one more expensive item, two less expensive items and stocking stuffers -- all chosen by the parent. Children under 6 years old also receive a stuffed animal.
Melinda Logan, of Lawrence, came to the store that afternoon to find items for her three boys -- ages 6, 10 and 15 -- and said there were plenty of options to find quality gifts for each.
"My husband's on layoff, medical leave this year, so these are going to be the only presents we can afford this year," she said.
Toy donations can still be made at any one of the drop-off locations scattered across Douglas County.
To receive toys, parents must provide documented proof of residency in Douglas County and proof of each dependent. Parents are also asked to provide a reason why they wish to receive the free toys.
Copyright 2018 The Lawrence Journal-World. All rights reserved. This material may not be published, broadcast, rewritten or redistributed. We strive to uphold our values for every story published.