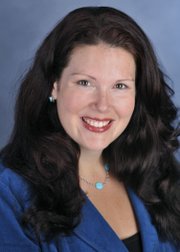 In Alaska, their homes are poised to fall into the ocean. Farther down the coast, the water threatens to one day swallow their land. And here, drought has threatened water supplies and disrupted food sources.
Members of some of the country's native nations are suing the federal government, children being among the plaintiffs, arguing that the government has not adequately protected natural resources and air quality. A Kansas University associate law professor has joined their cause.
Elizabeth Kronk Warner, director of the university's Tribal Law and Government Center, submitted a friend-of-the-court brief to the U.S. Court of Appeals for the District of Columbia Circuit on behalf of multiple native organizations. Kronk Warner seeks to help the plaintiffs, saying that the effects of climate change are hitting native populations the hardest.
Kronk Warner submitted the brief last month and hopes the case will be resolved by late 2014. She compared the pace of climate change litigation to that of the tobacco lawsuits of the late 1990s and early 2000s. "I think we're now to the point where we know it's happening," she said. "Now it's a question of finding a legal remedy."
The case invokes a doctrine that requires the government to maintain resources preserved for the public's use.
Kronk Warner argues that native people are disproportionately affected by climate change while having contributed little to its causes.
In Kansas, the Kickapoo nation, north of Topeka, has been among the hardest hit by climate change, Kronk Warner said. Droughts have led to water shortages, she said. Other concerns, she said, include the shifting of wild game migrations, a major disruption to a food source.
Haskell Indian Nations University professor Daniel Wildcat, a Yuchi member of the Muscogee nation of Oklahoma, co-directs Haskell's environmental research studies center. At issue, Wildcat said, is whether if climate change necessitates an Indian nation's move from its land, will its sovereignty follow.
The odds of governmental action as a result of the lawsuit are long enough that some question whether the effort is worth it. Wildcat said it is.
"This is very practical and meaningful," Wildcat said. "Symbolism counts for something. You can be dismissive and say it won't affect anything, but when you start asking to think about grandchildren and great grandchildren, I think that will resonate."
Copyright 2018 The Lawrence Journal-World. All rights reserved. This material may not be published, broadcast, rewritten or redistributed. We strive to uphold our values for every story published.