South Middle School principal Will Fernandez has announced that he will retire at the end of this year.
Fernandez has been the principal at South since 2005-2006. He saw its staff and students through the transition to a new building when the original school was demolished in 2007 to make way for the current building.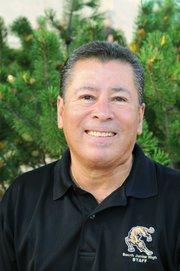 Fernandez came to Lawrence after working several years in the Dodge City school district, his alma mater, where he served from 1992 to 2004 as a social studies teacher and baseball coach, and later as associate principal. During that time he also spent one year as a research associate at Iowa State University.
"I want to thank the faculty and staff at South for the opportunity to be part of a family of educators that cares about the success of each and every student," Fernandez said. "I look forward to being with my family and enjoying retirement life."
He earned his associate's degree from Dodge City Community College, a master's from Saint Mary of the Plains College in Dodge City, and began his doctoral studies at Iowa State.
Lawrence Superintendent Rick Doll praised Fernandez's leadership, describing him as a "caring and compassionate administrator.
District officials said they would immediately begin a search for a new principal.
Copyright 2018 The Lawrence Journal-World. All rights reserved. This material may not be published, broadcast, rewritten or redistributed. We strive to uphold our values for every story published.