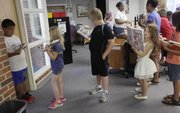 About this story
Micki Chestnut is communications director for the United Way of Douglas County, which provides occasional features spotlighting local volunteers and charities supported by the United Way.
When teachers say goodbye to their students on the last day of school, they know that when the students return in the fall, many will have forgotten some of what they learned during the previous school year.
According to Terry McEwen, Director of Assessment, Research, and Instructional Resources for the Lawrence Public Schools, nearly 56 percent of students sustain some level of skill or ability losses during summer break.
But this fall, when the Lawrence School District evaluated Measures of Academic Progress (MAP) reading scores, they discovered that students who had been involved in the Boys & Girls Club of Lawrence's summer program retained more of the skills and abilities than usual. The 900 elementary students served at the Boys & Girls Club experienced 10-12 percent less summer learning loss than the national average. Kennedy Elementary School site, which included students from Prairie Park Elementary, saw the greatest gains, with a 15 percent reduction in summer learning loss, based on the national average.
Why did these students remember more of what they learned in school last year? Many components contribute to student success, but a new addition was a team of community partners who collaborated with the school district to expand academic enrichment opportunities for the students in clubs this summer.
The collaboration includes the United Way of Douglas County, which provides resources and support for a team including the Boys & Girls Club, Communities in Schools of Kansas, Girl Scouts and AmeriCorps.
Rick Doll, Lawrence superintendent of schools, said the district is pleased with the results. "The intervention helped to lessen summer reading loss," Doll said
The United Way invested in enrichment programs at five Boys & Girls Club sites, which helped fund the hiring of district teachers to provide academic enrichment sessions for students. Students also dug into Power Hour Kits filled with grade level academic enrichment materials used every day in the Boys & Girls Club after school program.
The team also took unprecedented steps at Kennedy Elementary School, including funding a United Way AmeriCorps member serving with Communities in Schools who staffed Kennedy's library all summer so students could check out books and participate in book clubs.
"We know that when children succeed in school early, they are more likely to succeed in life, and United Way wants everyone in our community to succeed," said Erika Dvorske, president and CEO of the United Way of Douglas County. "No one organization could realize these results, and if we can involve more partners, we can increase this even more!"
Cris Anderson, principal at Kennedy Elementary School, points to the partnership as a key reason more of the students at her school came back in the fall ready to learn. Typically, she said, teachers spend several weeks at the beginning of each school year reviewing material taught in the spring. That's frustrating for teachers, who hate to give up valuable instruction time re-teaching the same concepts, and it's frustrating for the students, who get discouraged when they lose ground academically, Anderson said. The partnership was valuable.
"It's not about me feeling like I'm trying to do this alone," Anderson said. "It's a huge responsibility to try to give 260 K-5 kiddos everything they need. When you have that partnership, it feels doable, instead of just being left all alone."
Copyright 2018 The Lawrence Journal-World. All rights reserved. This material may not be published, broadcast, rewritten or redistributed. We strive to uphold our values for every story published.