More coverage: Gianfranco Villagomez-Saldana
Photo Gallery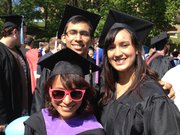 Contributed photos of Gianfranco Villagomez-Saldana
Gianfranco Villagomez-Saldana, a KU student, went missing early Saturday, Dec. 7. Since then, Lawrence police found a body confirmed to be Villagomez-Saldana. The following photos are submitted from his friends and classmates.
Grieving friends of Kansas University student Gianfranco Villagomez-Saldana described him Monday evening as a smiling, positive man whose apparent death after a weekend disappearance had shocked the campus.
"It's been a nightmare," Jessica Fertig, a friend and former classmate, said of the past several days. "He was a loved person."
Villagomez-Saldana, 23, from Lima, Peru, was taking computer science classes at KU, where he completed his Bachelor of Fine Arts degree in design in May.
Villagomez-Saldana went missing early Saturday morning. Monday afternoon, Lawrence police were called to the 800 block of Avalon Road after a body was discovered in the backyard of a house. Police said they found no immediate evidence of foul play.
Through social media and interviews with the Journal-World, friends of Villagomez-Saldana described him as bright and friendly with an ever-present smile.
"He was always smiling, and he was always making people laugh," said Eryn Gronewoller, a KU student who worked with Villagomez-Saldana as a resident assistant at Hashinger Hall. "His smile says everything about him."
Fertig said many people on campus came to know Villagomez-Saldana through his employment at Hashinger Hall, where he was "so friendly and talking to everyone."
In an email, Chris Paradies, who said he roomed with Villagomez-Saldana during their freshman year, called him one of the nicest people he had ever met.
"You know in movies how there's that character that will run across the street and say "hi" to you and then walk with you to class? That's who he was," Paradies said.
May Tveit, an associate professor of design at KU who had Villagomez-Saldana in classes, called him a role model for other students in the department.
Tveit said she spoke with him about creating a study abroad class in his native Peru for design students. And at the beginning of the current semester, when he returned for the first time as a graduate student, she told him he should keep a desk in the design department to keep his positive energy "in the building."
"He's mature beyond his years and he just had such an incredible openness and thoughtfulness with everything that he did," Tveit said.
Ben Unglesbee contributed to this report.
Copyright 2018 The Lawrence Journal-World. All rights reserved. This material may not be published, broadcast, rewritten or redistributed. We strive to uphold our values for every story published.