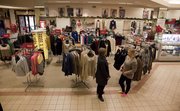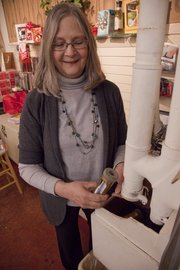 Photo Gallery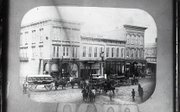 Old blends with new at 156-year-old Weaver's department store
With 156 years of continuous operation, Weaver's may well be the oldest store of its kind in Kansas and one of just a handful of similar stores left in the country. In addition to its positioning in vibrant downtown Lawrence, Weaver's attributes its longevity to its people, products and prices.
Opening weekend of Christmas shopping season saw customers cramming the usual south Lawrence box stores and sprawling parking lots.
But plenty of others were merrily browsing bargains at Weaver's department store at 901 Massachusetts St. — a retail relic where new trends and upscale brands are displayed between creaky old stairs and a midcentury façade.
"Every community throughout the United States used to have a store like Weaver's," the store's president, Joe Flannery, said. "So we've really been fortunate for a lot of reasons to still be thriving."
Key words: "used to."
With 156 years of continuous operation, Weaver's may well be the oldest store of its kind in Kansas and one of just a handful of similar stores left in the country. In the lineup of long-lasting department store chains, Weaver's started after Lord & Taylor but pre-dates Macy's by a year.
How is Weaver's hanging on when other small, locally owned department stores couldn't?
In addition to its positioning in vibrant downtown Lawrence — itself a retail anomaly compared with most small-town main streets — Weaver's relies on the "three Ps," Flannery said. "Our people, our products and our prices."
Keeping current
On Black Friday, regular Weaver's customer Connie Robertson, of Lawrence, chatted with familiar sales clerks in the women's department.
Robertson said she liked coming downtown, the store's hometown feel and the variety of its products. In addition to clothing and housewares, Weaver's sells Clinique, Lancôme and Estée Lauder cosmetics and skin-care products.
"I like their makeup counter, and to my knowledge it's the only place in town you can get that stuff," Robertson said.
Lawrence's other department stores, including JCPenney and Kohl's, don't carry many of the higher-end brands Weaver's does. You'd have to drive to Dillard's, Macy's or Nordstrom in Topeka or Johnson County to find the same lineup of brands.
Think the latest Le Creuset cookware and Wüsthof knives. Women's clothing from tried-and-true, like Woolrich sweaters, to trendy, like $249 leather-inset jodhpurs from Paige designer denim. And, for men, tailored styles from Ralph Lauren and Vineyard Vines.
Yet competition — including from other downtown retailers, chain stores in newer parts of town and the Internet — is one of Weaver's biggest challenges.
Keeping products current and prices competitive has kept the store relevant for more than a century, Flannery said. While Weaver's has embraced social media, the store aims to expand its website to enable more online sales.
"It's essential that we stay on top of trends," Flannery said. "We've always prided ourselves in our willingness to try new ideas."
Customer service is another part of Weaver's staying power, and Flannery said reading clients may be more important than ever. While some want that old-fashioned full-service attention, others — especially younger ones — know what they're looking for and want to be left alone.
On the old-fashioned end, a man recently came in and bought some bowls for his wife, who liked them and decided she wanted more. Jo Haehl, home shop department head, delivered the additional bowls to the couple's house herself. Weaver's does the same for other items, with common requests including cosmetics, sheets, towels and large items like vacuums.
"We still do deliveries in town and the free gift-wrapping at Christmas," said Haehl, who's worked at Weaver's 11 years. "Things that other stores have given up, we continue to do."
Embracing the past
The store that would become Weaver's opened on Massachusetts Street in 1857.
Bullene's offered grocery staples, shovels, glass, cloth and tailoring services, with its offerings growing in variety over time, according to information from the Watkins Museum of History. The store moved twice — never off Massachusetts Street — and rebuilt from fire twice before 1883, when Lathrop Bullene hired Arthur D. Weaver, who bought the business a few years later.
In 1929, Weaver bought out his largest competitor, the Innes department store at Ninth and Massachusetts streets, and moved Weaver's into the 1911 building it occupies today.
Flannery's father, Larry Flannery, joined Weaver's as store manager in 1950 and, in 1962, formed a corporation to purchase the store from the Weaver family. One of Flannery's first changes was buying Carl's Clothiers next door and turning it into the Weaver's men's shop. But he didn't want to rename the store.
"The Weaver's name was so iconic in Lawrence that it was never considered to change the name," Joe Flannery said.
Weaver's old building is both a draw and a challenge for the business.
Having one floor of merchandise instead of four would be easier for shoppers and more efficient for Weaver's, Flannery said.
But the building enjoys a central location in downtown Lawrence (taken advantage of this time each year for Lawrence's Santa rescue, in which St. Nick "accidentally" lands his sleigh on the roof) plus some historic charm.
Perhaps most charming are the pneumatic tubes that still wind through Weaver's walls and ceilings. The tubes, installed in the 1930s, once relayed every sale — and an occasional practical joke — upstairs to the office, but now the 11 pipes mainly carry messages and change for the registers.
"We no longer use them for the transactions that people remember them being used for for decades, but we still turn them on every day and consider them part of our personality," Flannery said.
Layers of carpet and circa-1970 exterior stucco walls have cloaked much of the original building, but in certain spots Weaver's is uncovering the more distant past.
Someday Weaver's may remove that stucco to reveal the old brick walls and windows still behind it, Flannery said. For now, they're pulling up carpet on part of the third level and refinishing the original wood floor beneath. It will join the original floor now gleaming in the men's store and on part of the second level.
"Not only does it look beautiful, but it looks so updated, too," Flannery said. "What is old is new again."
Copyright 2018 The Lawrence Journal-World. All rights reserved. This material may not be published, broadcast, rewritten or redistributed. We strive to uphold our values for every story published.