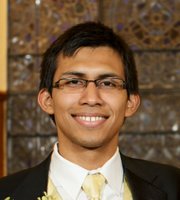 More coverage: Gianfranco Villagomez-Saldana
The Lawrence Police Department continues to investigate the case of a missing Kansas University student who was last seen early Saturday morning.
Gianfranco Villagomez-Saldana, a 23-year-old graduate student from Peru, was last seen by a group of friends at a gathering at a home near Ninth and Michigan streets. He was observed there around 2:30 a.m. walking alone toward his destination of 11th and Mississippi streets, according to police.
Friends are organizing a search party today at 1012 Emery Road Apt E5 at 2:30 p.m. (for more information, call Marieliza Suarez at 913-484-8583). They are updating the status of the search on a Facebook page dedicated to finding Villagomez-Saldana.
Friends of Villagomez-Saldana advised police that it was out of character for him to be out of touch and not return to his apartment.
Lawrence Police Sgt. Trent McKinley said officers have canvassed the neighborhood and spoken with Villagomez-Saldana's family and friends. "We're in the information-gathering stage right now," McKinley said Sunday.
On Sunday, about 25 of Villagomez-Saldana's friends knocked on doors and left fliers in the area of his disappearance. Villagomez-Saldana's father and brother are reportedly flying in from Peru today to help with the search.
Villagomez-Saldana's girlfriend, Donna Jo Harkrider, called the police about 7 p.m. Saturday. She had last seen him about 24 hours earlier, according to her mother, Julie.
According to police, Villagomez-Saldana is approximately 5 feet 8 inches and about 165 pounds. He has dark brown eyes, black hair and glasses. He was last seen wearing a blue shirt with a KU Jayhawk logo on it, a long-sleeve gray shirt, a black jacket, jeans and white tennis shoes.
Anyone with information is asked to call police at 785-832-7509.
Copyright 2018 The Lawrence Journal-World. All rights reserved. This material may not be published, broadcast, rewritten or redistributed. We strive to uphold our values for every story published.