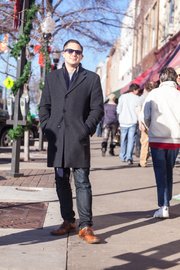 Age: 31
Relationship status: I have a girlfriend.
Hometown: Indianapolis
Time in Lawrence: I went to school here so I'm just back visiting.
Occupation: I'm a consultant for a software company.
Dream job: I'm doing what I love.
What were you doing when scouted? Hanging out with my brother-in-law and friend Cole.
Describe your style: I try to keep a modern look with an element of classy. I like a style that is a little bit more well-crafted.
Fashion trends you love: Particularly when it comes to the modernization thing, we've seen sort of a slimming down of and a more tailored cut of traditional menswear. I like that!
Fashion trends you hate: I can't think of anything off the top of my head right now.
Fashion influences: Here and there. I just pick what I like; it just seeps in. I think pop culture kind of permeates but I don't really look anywhere in particular for something.
What would you like to see more of in Lawrence? I feel that men's fashion is too complacent. People can just try a little bit harder; a little bit more sculpting and a little bit more effort. (Not) "let's just throw on a T-shirt" — maybe think about what you're putting on.
Less of? It's been awhile since I've been here so it's hard to say but I'm sick of that mustache thing. It's just ridiculous.
Whom do people say you look like? I don't think anyone has said I look like anybody.
What type of music do you like? Blues, jazz and rock 'n' roll.  
Tell us a secret: Soylent Green is made of people.
Copyright 2014 The Lawrence Journal-World. All rights reserved. This material may not be published, broadcast, rewritten or redistributed. We strive to uphold our values for every story published.