Photo Gallery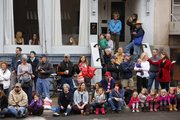 Downtown Christmas Parade
Images from the 20th annual Lawrence Old-Fashioned Christmas Parade.
Even parade director Elaine VanDeventer can count on a handful of surprises with each Old-Fashioned Christmas Parade in downtown Lawrence. VanDeventer, at the helm for Saturday's 21st annual parade, will see many of the dozens of horse-drawn participants for the first time along with a downtown crowd expected to again approach 20,000 despite Saturday's frigid forecast.
"I promise there will be some very nice surprises," VanDeventer said.
As for what we can expect:
• 11 a.m. start: Preparation for the parade will begin around daybreak as participants will get their horses ready, then leave the Douglas County Fairgrounds at 10 a.m. At the parade's 11 a.m. start, participants will cover a six-mile loop downtown toward South Park before heading back to the fairgrounds upon the parade's completion around 12:30 p.m.
• 48 degrees: That's about how colder it will be Saturday than last year's Dec. 1 parade. The National Weather Service in Topeka forecasts a high of about 21 degrees with a small consolation being mostly sunny skies.
• 65-70 entries: Cold weather forecasts — and winter storms elsewhere — have made Saturday's expected turnout a moving target, VanDeventer said. Still, she expects turnout to be on par with 2012, which saw about 73 participants ranging from Clydesdale-drawn wagons to miniature Sicilian donkeys and participants from as far as South Dakota and Texas are expected. Back again this year will be the Wells Fargo stagecoach from Minneapolis and, as always, Santa Claus serving as the finale.
• 15,000-20,000 spectators: Last year, VanDeventer said turnout approached 25,000 and said she expected anywhere from 15,000 to 20,000 to attend this year, despite the much colder forecast. She said word of mouth has helped grow the event both in terms of participants and spectators, the highlight being USA Today's inclusion of the parade on its 10 great places to put a spin on the Christmas spirit in a November 2012 article.
• What's new: In observance of this year's sesquicentennial anniversary of the Civil War, VanDeventer said, a Civil War cannon and ammunition wagon will be part of the parade's introduction. Civil War re-enactors will join regulars like the Commanding General Color Guard from Fort Riley and Nicodemus Buffalo Soldiers from Plainville. Also new this year will be the Topeka Fire Department rolling out a 1904 steamer wagon used by the department for 20 years and since refurbished.
• Another first: Barricades will be placed along the sides of Massachusetts Street as a safety measure to separate spectators from the animals. Earlier this week, one of the event's longtime organizers, Marty Kennedy, told the Journal-World the barricades would give horses the idea that they are supposed to continue "nice and straight down the street." The barricades will start going up around 8 a.m. Saturday and will be placed behind cars already parked along Massachusetts Street. Cars will be blocked in until at least 12:30 p.m. when an event truck following street sweepers will pick up the barricades. For many, organizers say, parking spots downtown will serve as front-row seats to the proceedings: VanDeventer said spectators often park cars overnight or before sunrise along the route.
Copyright 2018 The Lawrence Journal-World. All rights reserved. This material may not be published, broadcast, rewritten or redistributed. We strive to uphold our values for every story published.