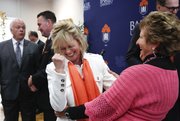 As she was introduced Thursday morning as the next president of Baker University, Lynne Murray said the day was not about her.
"It's about us and what we can achieve together," Murray told those gathered at the Baker president's residence for the announcement.
"When walking through this wonderful campus," she said, "I was touched by you, the excellent staff, faculty and students who shared your stories with me."
It was that inclusive quality that made an impression on committee members charged with selecting the person who will succeed Pat Long as Baker's 29th president.
Murray, vice president of development and alumni and international relations at Gallaudet University in Washington, D.C., was one of three finalists who visited the campus last month and one of nine candidates interviewed for the job.
Long announced earlier this year that she would retire on June 30, 2014, from the position she has held since 2006.
Hoot Gibson, chairman of the Baker presidential search committee, said it was apparent that Murray was an engaging, open person and was genuinely excited about Baker.
It was her openness that set her apart, said Baker junior Zach Aldrich, a student representative on the search committee.
"Being a student and being on campus, I was hoping for someone engaging and outgoing," he said. "When I first met Dr. Murray, she was all that. "
Murray worked in Gallaudet's office of development from 1997 to 2007 and was its director for five of those years. Before returning to her present position at Gallaudet in 2010, Murray worked as senior director of advancement at Georgetown University.
At Gallaudet, Murray led a $79 million fundraising drive to support scholarships, faculty excellence and academic programs, Gibson said. She was one of the leaders of a $500 million scholarship fundraising campaign at Georgetown.
"Her range of experience in higher education and tremendous communication skills will help Baker University carry out its strategic vision," Gibson said.
Aldrich said those skills and Murray's open personality would be a plus in fundraising.
"To be a good fundraiser, you have to make quick connections," he said. "I've talked with her three or four times. Each time she remembers something from our last conversation."
Murray said her fundraising priorities would be to find dollars for the Baker Scholarship Initiative as a way to increase enrollment and find additional support to help attract and retain faculty.
"Faculty development and keeping the excellent faculty we have here are going to be priorities for me," she said. "Finding money for their programs — whether they be excellent science programs, money for the MBA program or money to get a new degree program started — are extremely important. I'll be looking for money from alumni as well as corporations and foundations."
Another early priority would be the board's interest in increasing student diversity on the Baker campus and in its Johnson County graduate programs.
"We'll be looking to do that through international outreach and outreach to specific populations in the region," Murray said.
The president's office isn't the only place Baker is experiencing transition. With recent retirements, the school will be replacing deans of education and nursing and the position of campus minister. Murray said she would look to the presidential search process as a model when filling those openings.
"I thought about this a lot and what I liked about the Baker way, even in the presidential search, was everyone was represented. You had students, faculty, staff, the board and community members," she said. "I would follow that process. I want it to be very inclusive and transparent. I will have to make the final decision, but it won't be without the input and direction of the people leading the search process."
Murray said she would stay at her position at Gallaudet but assume more of a "background" role as she helped that school's president make the change in her position. She would make frequent trips to Baldwin City in the next six months as she worked through the transition with Long, Murray said.
"I see her as someone I will want around, especially in the early days to introduce me to the community and our alumni and friends," Murray said. "As we move along, I would hope she could provide strategic direction, especially to see that the things she started are completed. I wouldn't want there to be a break."
Copyright 2017 The Lawrence Journal-World. All rights reserved. This material may not be published, broadcast, rewritten or redistributed. We strive to uphold our values for every story published.