The Christmas tree twinkles with lights and baubles. A pile of presents sits underneath, and around the base of it all chugs a shiny, new toy train, tooting its horn merrily.
The vision of a train around the base of a Christmas tree is well-established, but I'd never thought much about why until the Kid became obsessed with trains.
"Why a train under the tree?" I wondered. "Why not a boat or a teddy bear or some other toy?"
A few minutes on Google were inconclusive, but the majority opinion seems to be that the tradition began with German immigrants on the East Coast.
It was apparently a European custom to build tiny Christmas villages around the base of a Christmas tree.
Because trains were the major mode of transportation, naturally each miniature village had to have one.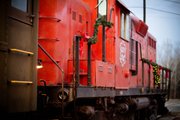 And it was the transportation aspect that seems to have ensured that the train tradition has stuck.
When people more commonly traveled by train, the train station was likely the first place you'd see your loved ones coming home for the holidays. Those beautiful Christmas packages under the tree would also have likely been delivered by train.
In that light, it's easy to see how trains and Christmas became linked in holiday nostalgia.
As train-crazy as the Kid is, though, we don't have room for a train under our Christmas tree. Instead, we've chosen to make going to visit area Christmas trains a part of our December fun. Luckily, there are two close by.
The Midland Railway in Baldwin City does a Santa Claus Express, which we rode last year. The train leaves from the Santa Fe Depot, 1515 High St., four times a day on the weekend of Dec. 14-15.
The ride includes carolers, stories, hot cocoa and cookies. Oh yes, and the big guy — Mr. Claus himself — rides in the front car where kids can visit him and take photos during the ride. Tickets are $16 for adults and $10 for children, and can be purchased online at www.midlandrailway.org or at the depot before your ride.
If you go, remember to dress warmly. The train cars are in their historic state, which means they're heated only by small stoves. Don't worry, though: If you get too cold like I was, the all-volunteer staff will be happy to pour you an extra hot chocolate.
The second area Christmas train, which we're planning to visit this year, is the Kansas City Southern Holiday Express Train at Union Station in Kansas City. The Holiday Express will be at Union Station Dec. 18-22. It's free to walk through, and your family can visit with Santa inside.
While I've been told that the wait to see Santa and the inside of the train might be a bit much for my small fellow, the outside of the train can be viewed anytime. It has a smiling, lighted engine, a flat-car carrying Santa's sleigh, and four cars of elves and gingerbread besides; I'm already excited to see the Kid's face when he sees it.
Union Station additionally has a free model train exhibit, several showings of "The Polar Express" ($6), and a miniature train ride ($5 or free with a "Polar Express" movie ticket, but your kiddo must be under 48 inches tall).
We're planning to put the Kid in his Christmas pajamas, catch dinner at Fritz's in Crown Center — where they deliver your cheeseburger on a train — and have a special holiday family night enjoying all the magic that Christmas trains can bring.
— Meryl Carver-Allmond lives in Lawrence and writes about chickens, babies, knitting, gardening, food, photography, and whatever else tickles her fancy on any given day at www.mybitofearth.net.
Copyright 2018 The Lawrence Journal-World. All rights reserved. This material may not be published, broadcast, rewritten or redistributed. We strive to uphold our values for every story published.