In one of the most popular Kansas University dining facilities, a string of daunting messages hangs above the young students eating lunch.
"Ma, I'm sorry you had to die to escape your pain. Watch over us tonight," one read.
"August 1999: my ex-boyfriend threatened to kill me," read another.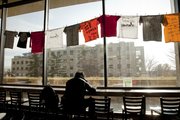 The emotionally haunting words are scrawled onto T-shirts pinned to a clothesline strung in The Underground as part of a collaborative effort with the Willow Domestic Violence Center to raise awareness of domestic abuse.
The heartbreaking notes may seem out of place in a rambunctious college cafeteria, but KU junior Alexander Montgomery said the seeming contradiction made the project's message stick.
"It's not in a place where you'd expect it, which I think makes it more powerful," Montgomery said. "People need to be taken out of their comfort zone in order to be called to action."
KU junior Joey Hentzler said it's fitting if students lose their appetites when reading the gripping words in the dining hall.
"It's a little grotesque, but so is domestic violence," Hentzler said. "This is every day for some people, so I think it's good for it to be thrown in students' faces this way."
The activity is part of the nationwide "Clothesline Project," which invites domestic violence survivors and advocates to decorate a shirt expressing their emotions about their experiences anonymously. The shirts are then strung in public to serve as a reminder of the victims of domestic violence.
The Willow Domestic Violence Center has put on its own Clothesline Project since the 1990s, but this was the first year for the artwork to be displayed in The Underground.
Becca Burns, director of volunteer services for Willow Domestic Violence Center, said they decided to partner with the KU dining facility because of the diverse population of its customers.
"It is such a common place to gather and brings about such a great sense of awareness," Burns said. "Instead of having it in a certain hall where one type of major may go, there's a diversity of groups at The Underground."
One in three women have previously or will experience domestic violence, and women ages 16 to 24 are at the highest risk. Because most traditional college students' ages fall into this category, Burns said the project needed to have exposure on the KU campus.
"In theory, it's a perfect age to think about healthy relationships," Burns said. "We never quite know the profound impact the artwork will have on people."
Burns said the project aimed to combat one of the leading reasons why domestic abusers commit violent acts: limited accountability to stop the abuse.
"Holding abusers accountable is the number one thing we can do to prevent violence against women," Burns said, "and this project aims to start that dialogue on a communal level."
The T-shirts will be on display in the windows of The Underground throughout December. For more information about the Willow Domestic Violence Center, visit http://www.willowdvcenter.org/.
Copyright 2017 The Lawrence Journal-World. All rights reserved. This material may not be published, broadcast, rewritten or redistributed. We strive to uphold our values for every story published.