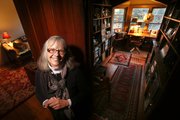 Sometimes a house will just steal your heart.
About 30 years ago, Shelley Hickman Clark's heart crossed the threshold at 1734 Kent Terrace and was had.
"When we came to look at it for the first time, it was 8 o'clock at night, and I hadn't even really seen the house," Clark recalls. "I hadn't even walked upstairs, but I walked through the door and just said, 'This is my house.'"
As the years began to pile up, it seemed that the house began to talk back. No, this isn't a ghost story — I don't think — but Clark always felt that something odd was going on whenever she entered a small room on the backside of the house. It's not really big enough to be a living room, and it's not really ornate enough to be considered anything grand. But yet, there always was this feeling when Clark entered it.
"It always felt like the heart of the house," Clark says. "I always felt like I had settled somewhere. I don't know how that is, but I've always had the feeling that when I'm in there, I've arrived."
A few years passed before Clark got her first clue as to why. Although small for a living room by today's standards, with its old, cracked brick chimney in the corner, it once was a living room. In fact, it very likely is the oldest living room in all of Lawrence.
Clark found documents that indicate her home was the first wooden-framed house built in Douglas County — constructed during 20 days in May 1855. That's just 10 months after the first settlers arrived in what is now Lawrence.
Until someone proves her otherwise, Clark proudly tells people she and her husband, James Clark, live in the oldest home in Lawrence.
"People are pretty surprised," Clark says, "especially when I tell them that we live at 23rd and Iowa behind the Hobby Lobby."
•••
That's right, the oldest home in Lawrence may be just a strong stone's throw away (well, maybe a high-powered sling shot's throw) from Lawrence's most suburban intersection.
But the 1700 block of Kent Terrace, a little-traveled street tucked between 24th and 25th streets, is a good reminder that Lawrence used to be a much different place. In 1855, this house wasn't in Lawrence at all. It was a point on the prairie, and there are letters about how the area was covered with grasses so tall they reached the neck of a man's pony.
That's where pioneer Joseph Savage decided to build his farmstead. The original house, now the back portion of the Clark's home, was 17 feet by 25 feet with a basement. Savage filed a document at the courthouse showing he began construction on May 1, 1855, and moved in on May 20 of the same year. He bought the lumber from the now-defunct Kansas River town of Benecia and paid $35 for 1,000 feet.
Somewhere, he also bought some square nails.
"We stop when we start finding square nails," Clark says of their renovation work on the house.
For the longest time, Clark knew more about square nails than she did about Savage. Her family had lived in the house for more than 10 years before her daughter learned through a project for a Lawrence High history class that Savage had built the house.
Not that the name Joseph Savage meant much to many people. But Clark wanted it to. After all, she was living in his house. Clark, an attorney and associate professor of law at Kansas University, found the 1855 document in the mid-1990s, and one document would lead to another.
Savage, she learned, was part of the second group of settlers who arrived in Lawrence. He was a farmer, although he had the misfortune of being in town on the morning that William Quantrill sacked the city. A staunch abolitionist, Savage survived the raid through dumb luck. His cornet did not. Savage, a member of the city's band, later found the instrument in the debris and had it repaired.
But the house wasn't often filled with happy music in the early years. Savage saw his wife and four of his five children die within the first two years of arriving in Lawrence.
"He came here to make Kansas free," Clark says. "That's the part that sticks with me the most — his motivation for being here and the sacrifices he made."
•••
Eventually, happier times would come to the house. In fact, it likely was once filled with a noise that brings a lot of smiles to faces in modern-day Lawrence: Rock Chalk Jayhawk.
The home became a bit of a gathering place for university leaders. Savage never received a college education, but was an avid amateur scientist and was granted membership in the university's Science Club. He frequently held social events for the club. The Science Club is frequently credited with devising the Rock Chalk chant.
"Our friend was one of those who made the desert bloom," a science club member wrote in Savage's 1891 obituary. "His farm has brought forth much fruit."
Whether it brought forth the earliest renditions of the Rock Chalk chant is probably tough to know for certain, although there are stories that suggest it did. But Clark knows the home has brought forth much for her.
"I didn't come into this as an amateur historian, but I certainly have become one," Clark says.
The history of the small, original, 1855 part of the house has been fascinating, she says, but in some regards the newer portion of the home, built sometime in the 1860s or 1870s, is even more inspiring.
Perhaps most inspiring is what it's made of. Unlike the wooden timber frame Savage used for the oldest part of the house, Savage built this two-story addition of stone.
Savage — despite the death of his wife, the death of his children, the death of his friends, the destruction of his town — had decided to stay, and he set out to build a house that proved it.
"It tells quite a story about conviction," Clark says.
She suspects the home can tell many more stories.
"I'm never stopping now," Clark says of her research on the house, which recently was added to the Lawrence Register of Historic Places. "You never know what you'll find."
But what Clark does know is that despite her instant love for the house some three decades ago, she's grown to love it even more.
"I got so much more than I bargained for," Clark says.
Like a house that not only steals hearts, but one that keeps them alive for history, too.
— Each Sunday, Lawhorn's Lawrence focuses on the people, places or past of Lawrence and the surrounding area. If you have a story idea, send it to Chad at clawhorn@ljworld.com.
Copyright 2018 The Lawrence Journal-World. All rights reserved. This material may not be published, broadcast, rewritten or redistributed. We strive to uphold our values for every story published.